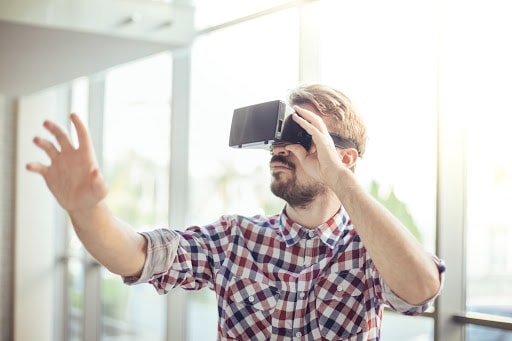 Hi-Tech Home Building – Using Technology to Plan Your Project Beyond the Front Door
High-Tech Home Building
Using Technology to Plan Your Project Beyond the Front Door
As technology moves at a lightning-fast pace, the home building industry is not immune to its advances. Newer methods of home construction design can help plan your construction project efficiently and on-budget. Digital design, virtual reality (VR) and drones are becoming the norm in conceptualizing and planning for a new project. During the construction, state-of-the-art building methods and materials can take months off your build. Companies like Quarry View Building Group are leaping deep into the 21st Century with these new tools of the trade.  
Scouting Technology
Scouting technology today saves contractors and developers time when they need to survey land and choose suitable locations for new or renovated structures. Using drones, 3D scanners and many more technologies, contractors like Quarry View Building Group are on the forefront of construction trends. 
Drones
Drones are extremely popular in real estate because drones can accurately show the scope and conditions of potential building sites. If a large plot of land has been overrun with massive tree roots or was illegally used as a dumping ground, developers and investors can decide its viability without ever having to visit the site. They're also helpful in surveying contours of the landscape for drainage and septic systems. 
3D Scanners
3D scanners are used by surveyors, architects and builders the exact measurements of potential obstructions on the property. 3D measurement services can provide information on existing building conditions with the accuracy needed for construction planning. It can also be used to compare the newly constructed work against the as-designed model or drawings for quality assurance.
For general contractors, laser scanning lowers risk by ensuring as-built drawings are complete and accurate and by exposing any inaccuracies early in the process, before they turn into change orders during construction. With laser scanning, the ability to catch conflicts before they happen has been shown to reduce rework which can translate into thousands of dollars in savings on potential changes and delays.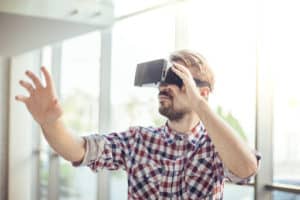 Virtual Reality 
Some construction companies are now using virtual reality (VR) programs for both clients and employees. Quarry View Building Group is taking the lead by using VR to visually immerse them into the structure. Clients can explore their structure through VR before the building process to ensure that the layout and flow of the building are what's desired while still utilizing physical samples to make final decisions such as the stain color for exposed timber.
VR can also provide workers the opportunity to learn the specific layout and dangers of each job site to minimize risk, allowing them advance notice about potential perils before stepping on site.
Robotics in Construction
Robotics in construction is beginning to grow into everyday use as the cost and implementation become favorable to average firms. The current labor shortage in construction has sped-up the development of robots in construction. From complex blueprints to unexpected holes in the ground, robots may be able to work on complex custom homes in the near future. 
3D Printing
A 3D printer for most people is nothing more than a strange phenomenon. Many companies are making the most of 3D technology however by experimenting with different designs and capabilities—including 3D homes. Using the additive manufacturing process at the heart of 3D printing, construction professionals can create extremely accurate models of structures in a matter of hours. On the job site, 3D printing is being used to pour concrete more accurately and reduce waste. This technology may not be quite ready for a mainstream audience, especially when the machines themselves cost so much to produce, but it may only be a matter of time before we see 3D printers take center stage.
Quarry View's High-Tech Building Process
Quarry View Building Group prides itself on using many state-of-the-art tools in its design and building processes. As noted above, using VR to show clients their building before construction is just one of the technologies we employ.
Curious about Quarry View Building Group's design and construction process? Tell us about your project and we'll show you how it's done. We'll take your vision and turn it into reality. Contact us at 717-656-3018 for a consultation today.