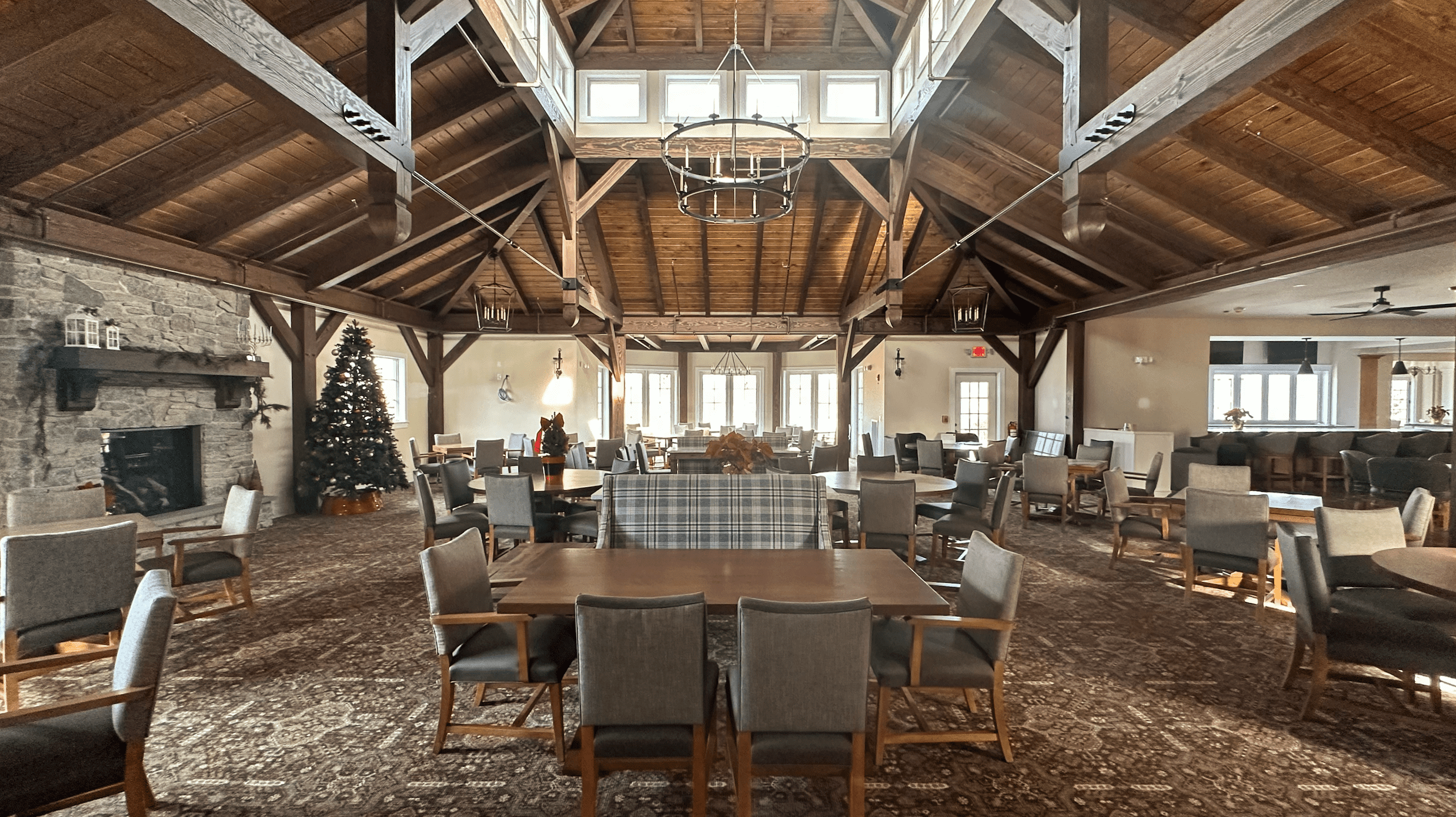 Timber Frame Golf & Tennis Clubhouse
by Paul Bahn | Monday January 9, 2023 |
Commercial
Basics and Details
For this project the timber frame structure was cut and prepared off site, delivered to Mendham Golf and Tennis Club and erected in place.  The timbers themselves are Douglas Fir sourced from the Pacific Northwest, providing rapidly renewable material which grows tall and true.  All the timber posts and beams, as well as the tongue-and-groove decking, are structural.  This allows for large clear spans which result in a very grand, tall and open space.  Clerestory windows added to the upper cupola promote natural lighting and strengthen the relationship with the exterior.  Here at Quarry View our skillset makes us fluent in crafting these spaces from conception to installation.  These spaces, when executed properly, ensure a legacy building that will be sound and stand proud for generations to come while providing a visually stunning experience.  Detailing at the upper cupola and below the main truss members required a keen eye for detailing, fabrication and installation of the metal tie rods with oversized turnbuckles and custom brackets.  These metal elements both lighten up the interior of the main space and add some extra detail to further enrich the experience.
Other Applications
From commercial or assembly application to a home space or addition, timber frames are scaled appropriately to provide a grand space for any occasion.  This build will be additional dining and assembly space for an existing renowned privately-owned golf course clubhouse.  There is a main area as well as a smaller area for additional seating, the latter of which is positioned to maximize views to and connection with the gorgeous site which surrounds the clubhouse.  Spaces for assembling and gathering have a very special and exciting sense to them – especially when using a custom timber frame structure. 
We look forward to enriching your new or existing space with your own custom timber creation! Connect with our team today to see how we can be a resource for your project!