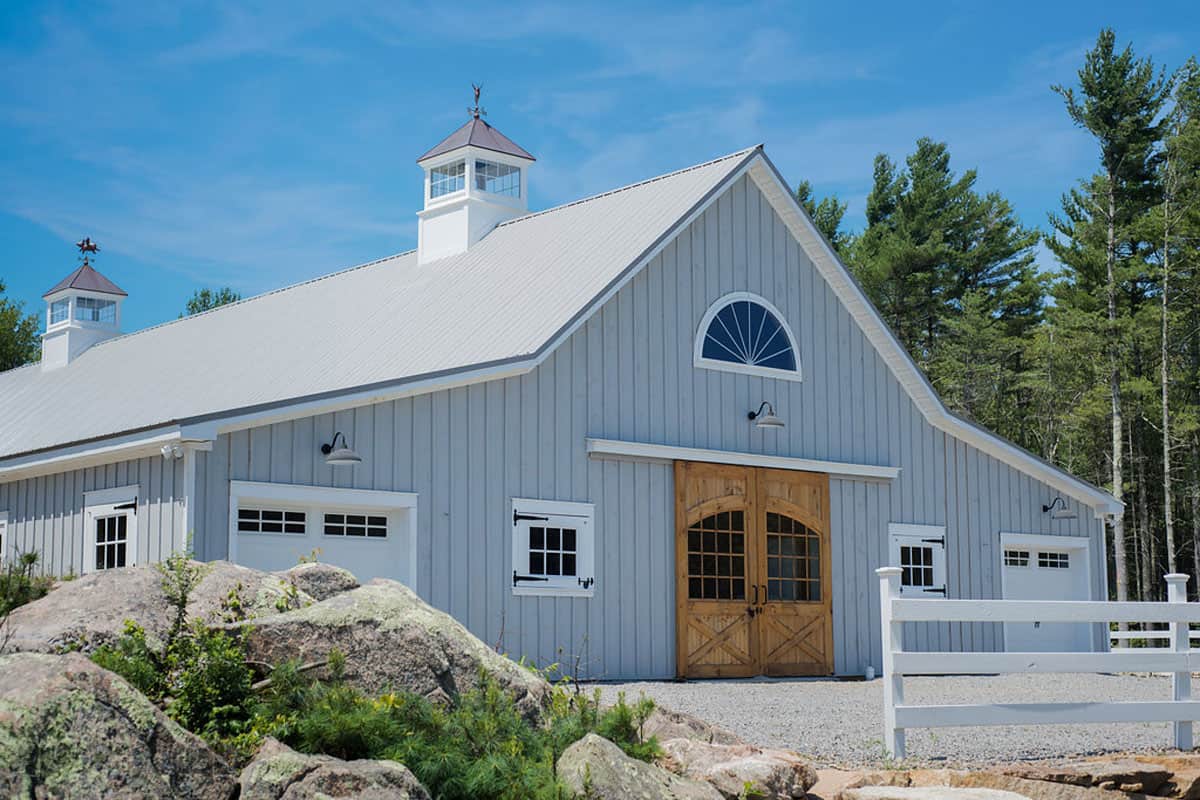 Barns with Living Quarters
by Craig Hoffman | Friday August 7, 2020 |
Equestrian
There is just something so down-home comforting about a barn. It speaks of simpler times when our ancestors labored with their hands to provide food and care for their families. So it makes sense that you'd want to live in one, right? But your house-inside-a-barn doesn't have to smell like hay and horses even if it looks like a barn on the outside. You get all the comforts of home with high ceilings, open living spaces and the opportunity for all the creativity you can muster. The task can be daunting but when working with Quarry View Building Group, you can turn your dream into reality!
Wouldn't it be fabulous to have both your home and the barn you want to spend your time in share the same fantastic view? Wouldn't it be amazing to check on your treasured horses and other animals on a stormy night without going outside? With the smaller home movement and the costs of purchasing and maintaining a traditional home, "barndominiums" are becoming a popular choice. Barns with living quarters are the ideal coupling for both personal and commercial use. Traditionally, these are horse barns with apartments built on top or attached on the side. However, with the increasing popularity of this style of architecture, these versatile buildings are becoming more common outside the equestrian world.
PRACTICAL USES
You can turn your barn into a one-of-a-kind guest experience, create a stunning wedding and event venue, or provide accommodations for tenants and employees. You can also host friends and family on your property, or simply enjoy your very own barn suite. The purpose of your barn determines the design.
These types of structures can be a more eco-friendly option than building a new standard barn & separate home.  Less materials are used and less waste is created in the building process of a barn with living quarters in comparison to the construction of two individual buildings.  This combination also creates less natural land disturbance.
BARN DOWNSIDES
The type of living quarters that can be built into any barns is subject to local building codes. Firewalls and ventilation are especially critical when placing the living area near an equine area or shop. Talk to Quarry View Building Group about how we can save you from the pitfalls of poorly designed home/barn residences.
Some other items to consider when deciding on adding living quarters to your barn:
Unwanted Animals: vermin and insects can invade even tiny spaces
Dust and Dirt: a good filtration system can help prevent this from taking over the living quarters
Noise: snorting, coughing, etc. are all part of daily life around horses
PERMITS & INSURANCE
If you build a horse structure it will be built to agricultural standards. This means to add a residential purpose to the building, you will almost certainly need a different set of standards incorporated to meet local town ordinances. Hence the need for permits. The stricter standards for residential use are there for your safety.
WHEN YOU'RE READY TO BUILD
Whether you're new to farm life or a veteran agriculturalist, combining your home and barn can be a unique and exciting structure with endless design potential. New construction methods and materials make barndominiums more safe, practical and efficient than ever before.
The next step is finding a barn builder that can take these ideas and make them yours. Partnering with an experienced custom home and barn construction firm like Quarry View Building Group can fulfill your dreams. Our state-of-the-art design and construction methods, combined with extensive experience in building agricultural facilities, make us the perfect choice for your barndominium. Our skilled team is ready to take on your next project, so contact us today.