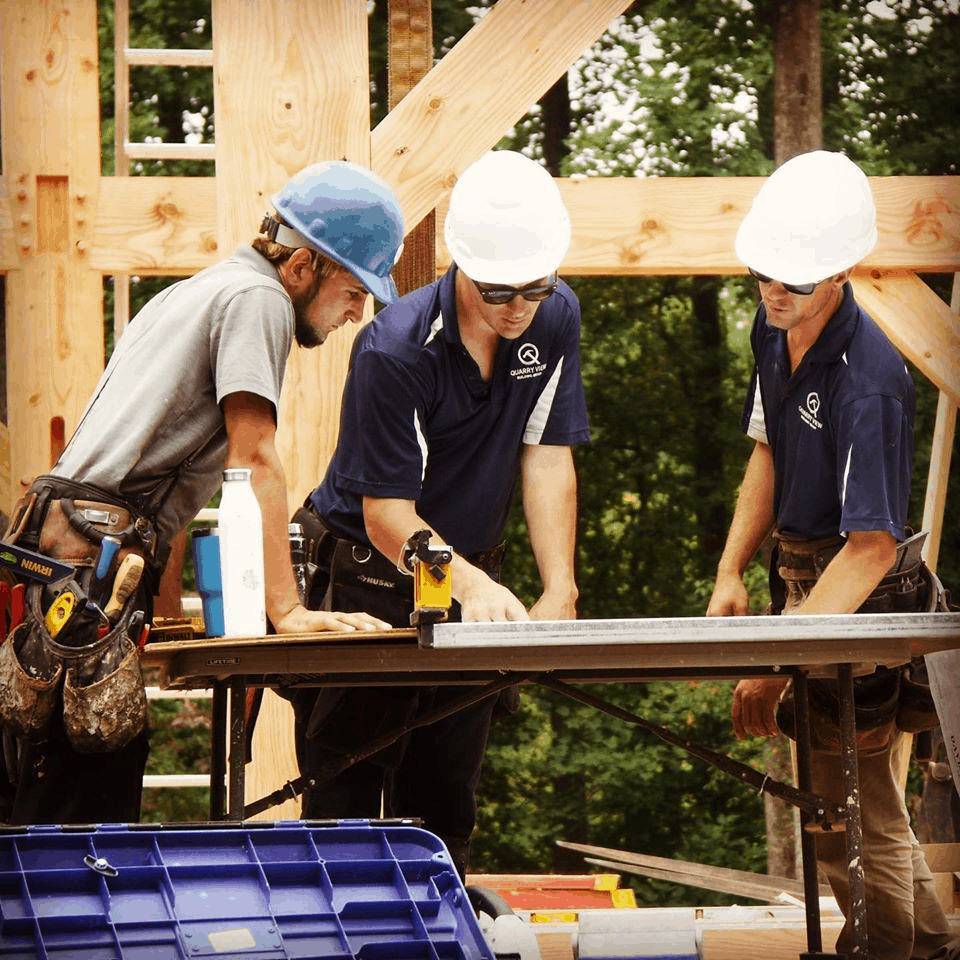 What to Look for When Choosing a Contractor
Building a dream home is a goal for many of us. Incorporating our vision, taste, style and creativity often drive us to build our version of the American dream. Unfortunately, a steady flow of headlines of wayward building contractors is all too common. Whether it's not finishing a job or shoddy work, the industry attracts many fly-by-night shysters looking for a cheap and easy profit. 
How does the dreaming home builder protect themselves? What should they look for when choosing a contractor? Doing your homework is the best first step. Finding a reputable contractor like Quarry View Building Group can be successful with a few simple steps that can make the difference between a dream home and a nightmare.   
Licensing & Insurance
Most of us have a license of some sort. Whether a driver's license, professional designation or a hunting/fishing registration, having one shows that we're trained and knowledgeable about the task. Contractors should be no different. Licensing and insurance are one of the most important things to look for when choosing a contractor.  
States vary in their requirements for a contractor's license. Some demand an exam and experience requirements while others just require registration and a bond and even others regulate through a separate residential construction board. Reputable contractors will find a way to become licensed, either through state or municipal registration or through a trade organization like the National Association of Home Builders. 
Insurance is another major factor when it comes to choosing a contractor. Their insurance policy protects you as the homeowner from incurring responsibility for an injury sustained on your property. Forthright contractors will proudly advertise and showcase their insurance and worker's comp licenses for prospective home builders.  
References & Reputation
The digital age has brought a newfound power to the home builder. Once relegated to the phone book, we can now use the internet to narrow down our choices of a contractor and view their reputation before even talking to them.
References and a positive online reputation are a good indication that your future contractor has a solid business and that their customers are happy with their services. Reputable contractors will provide references to contact. You can also ask friends and family for recommendations of the best contractors in the area. 
For example, Quarry View Building Group participates in several online review platforms including Google, Facebook, and Houzz. Newer contractors or those with spotty reviews will try to hide their ratings and reviews. So beware of a "too perfect" looking reputation online though. A 100% satisfaction rate could be a red flag indicating that the reviews posted are not from actual customers. 
Experience
Experience is also important when it comes to choosing a contractor. While it may be cheaper to go with a new startup or your cousin's cousin who has a truck and some tools, quality home construction is done by experienced craftspeople in every phase of the project. Weeding out contractor choices can be done online and by visiting their job sites to view their work. 
For example, Quarry View Building Group has over ten years in the building industry. They also have a team of professionals with dozens of years spent on ladders and roofs. Contractors with some time under their utility belt will likely showcase their latest builds in their portfolio and have an "about us" section detailing their construction industry experience. 
Turnaround Time
Once you've honed-in on a few prospects, asking about turnaround time is a good indicator of their acumen. If the turnaround time is too short, it may indicate that the company is sacrificing quality for speed. If the estimated length of completion is wildly different from other contractors, you'll want to take heed. You can also check with those references to see how efficient your new contractor was at finishing their projects on-time and on-budget. 
Communication
From the beginning of contacting prospective contractors, communication (or lack thereof) is a great way to make sure you're comfortable. Did the office get back to you promptly? Did they answer all your questions? Did they confirm the appointment? Did they answer all of your questions? If the answer is "no" to several of these questions, it may be a good indicator that the company will not have open communication with you during the process of your build.
Quarry View Building Group's process of client communication starts from the first contact. We focus on an entire client experience; making sure you understand every step of your construction project. The entire team of builders, designers, project managers and foreman are dedicated to client satisfaction. 
Pricing
Pricing the project can be complicated for everyone involved. Taking the time for a full needs-and-wants assessment with your contractor can remove ambiguity between expectations and results. Knowing what a competitive price for your project should be researched. Talking to those referrals help determine what should be charged. Contractors can be competitive with pricing, but if it seems too good to be true, it usually is. 
Contract
The contract you receive for signature will show a lot about your company. It will include most of the items listed above in addition to a description of the project, how (and how often) the contractor will be paid, lien waivers, project dates, costs and an out-clause. A detailed contract should show you the experience of a company. If you have a vague or hard to understand contract it might indicate that there are hidden fees or procedures to be wary of. 
Choosing Quarry View Building Group
Those looking to build that dream home and are looking for a revered company that checks-off all the boxes above should consider Quarry View Building Group. Our experience and expertise in building custom residential homes and other structures will make your choice of contractor easy. We have an A+ rating from the Better Business Bureau and a stellar reputation throughout the industry. Contact Quarry View today for a consultation on your next project.