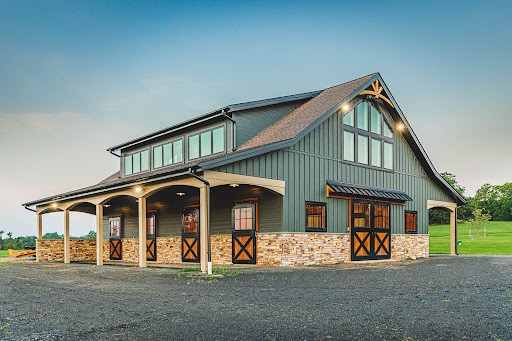 Keys To Building a Special Barn
by Jane DelBianco | Monday November 22, 2021 |
Agriculture
For most of us, barns are not just stables, it's where our treasured horses and other animals live. It's where we want to be most of the time. Whether its a large training facility or a private farm, Quarry View Building Group works diligently to ensure the barns, arenas, and accessory buildings we build will be enjoyed for years to come.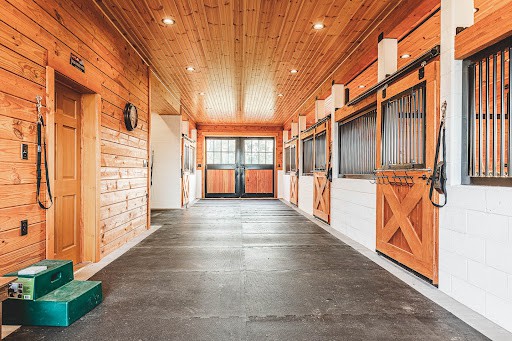 How to Begin
Honestly assessing the topography of the land is a key place to start. Consideration of prevailing winds, storms, floodplains, rock and neighboring properties is vitally important to a successful project. Thinking forward to accessibility of existing utilities, use of existing roads and parking all play a role. The greater the earth disturbance the new project creates, the more involved the permitting, potential storm water management, and excavation costs grow. Where you've always pictured a barn might not be the perfect spot when all of the factors are thoughtfully evaluated. We work hand in hand with our trusted professionals in excavation and civil engineering to create a well thought out and permit-approved site.
The Design
At Quarry View Building Group, we start the actual design process with learning about you and your specific needs. What are your goals for the facility? How many horses? How large are they? What about human needs? Is this a private or commercial facility? Primarily Boarding? Lessons? Training? Breeding? A Barndominium with living quarters above? Will there be an arena? How do you prefer to work? What layout comes naturally to you? Where will the hay, feed, and shavings be stored? How will the manure be managed?  Answers to these questions help to start formulating a floor plan.  
Properties look the best when the overall design is cohesive. Elements from the other buildings on the property are noted, and incorporated into the design with the floor plan.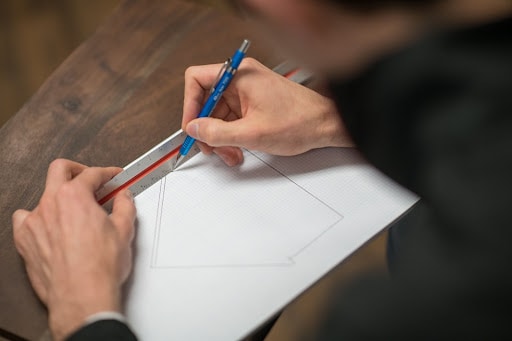 A Strong Foundation
Like all other buildings, the best barns and arenas start with great foundations. We strongly encourage the investment in a conventional block or poured foundation.  Pole construction, although common in many barns, provides a greater opportunity for nuisance animals such as woodchucks, raccoons or rats to borrow under your barn in search of food.  Foundations virtually eliminate that.  We do use pole construction in arenas, but also utilize concrete posts below ground so the wood posts are not rotting in the ground over time.  These details eliminate worry and repairs in the future.
Materials Matter
Many folks think of wood for barn siding.  However, if you like the idea of not worrying about maintenance for 15 + years, composite siding, James Hardie or LP Smart side are two beautiful options.  An added plus is that it is less susceptible to chewing by horses. Stone or brick veneer add a beautiful touch to the overall design.
A multitude of windows and doors bring in natural light and ventilation that make our barns healthy spaces for both horses and all of us to enjoy. Investing in exterior Dutch doors with windows allow horses to have great light, air flow, and an emergency escape. Training in an arena with so many windows that have a rider still connected with the outdoors but without missing training days due to the weather is a joy.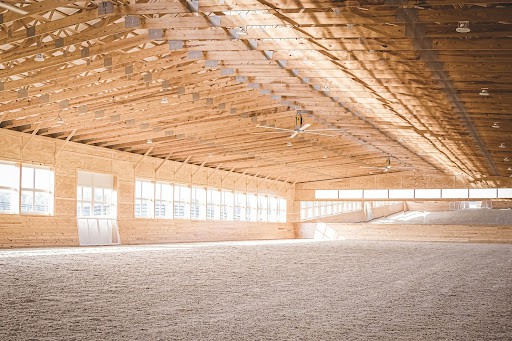 The roofing material is also key. Choosing well insulated ceilings with roofs that prevent large amounts of snow from sliding at once are key. Arenas roofs are often terrific spaces for solar panels, and we have the relationships with the experts to make that happen seamlessly as part of the overall construction. Quarry View Building Group utilizes our knowledge of Passive Energy construction to help guide you in the right direction for your budget.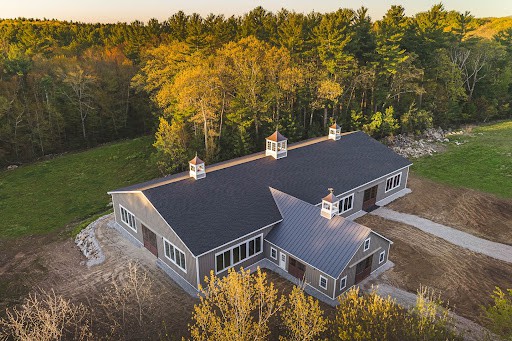 Building a Custom Barn
The most special barn will be a custom barn design that fits your preferences and lifestyle. Building a custom barn requires a builder that has expertise in custom construction, not repetitive cookie-cutter pole barn building experience. Quarry View Building Group treats every vision with care to transform it into the custom building of our client's dreams.