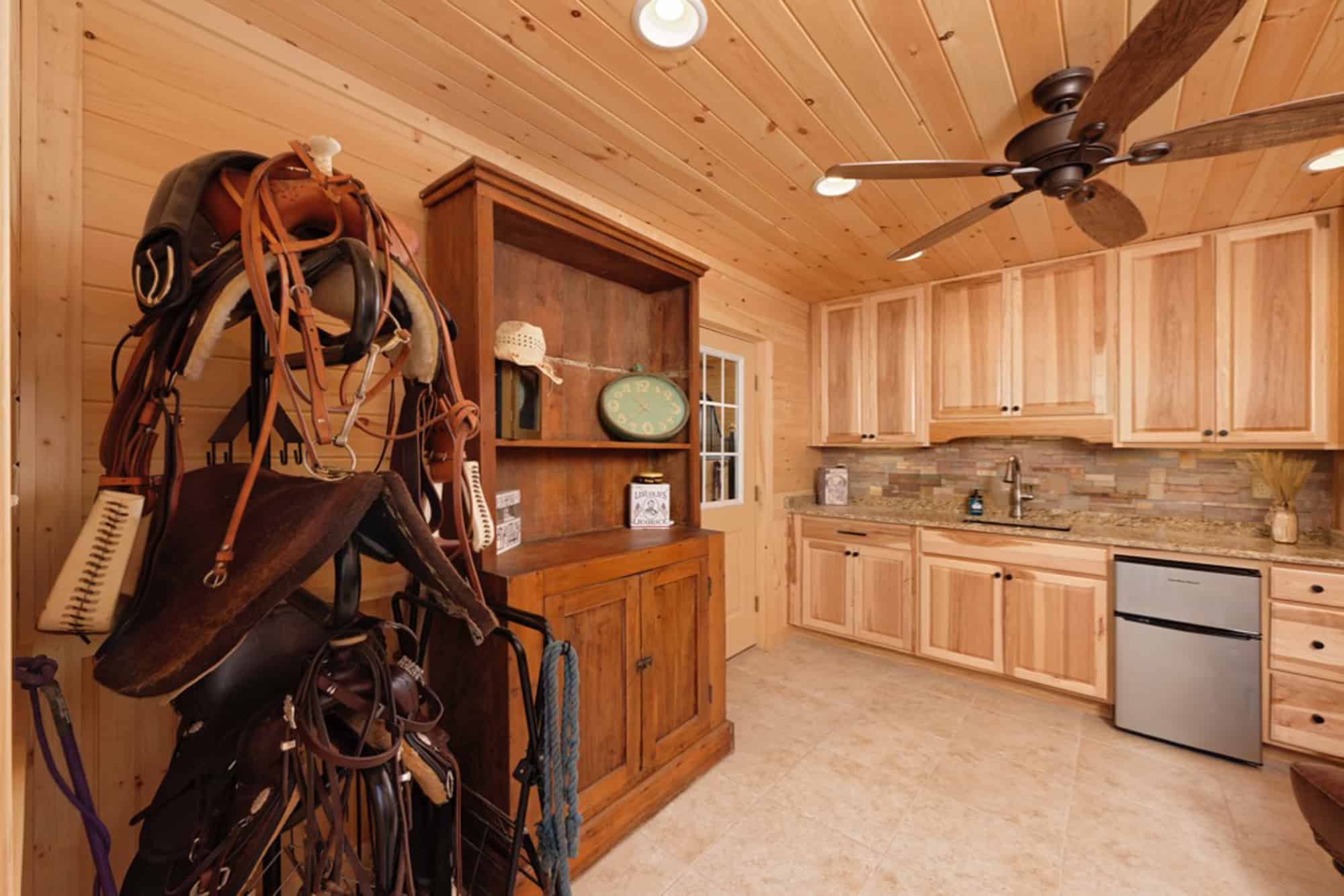 How to Make the Most of the Space in Your New Tack Room
Working with professional barn builders when designing and building your new barn can be an exciting process, especially when you have the ability to customize it to your liking. You'll be able to collaborate with them to design a new tack room to fit your exact needs.
Designing Your New Tack Room
What is the purpose of your tack room? Sure, you can use it for storage, but some people also use their tack rooms as gathering places after long rides or rough days. How you plan to utilize the space will determine what size tack room you need.
If you've had a barn in the past, consider what you liked and disliked about your old tack room. Was it big enough to store all your necessities, from bridles to refrigerated medications? Make sure you have enough electrical outlets in the new tack room to accommodate however you plan to use it. What was the air situation like? If you battled mold in your previous tack room, be sure to take specific precautions to prevent the problem from recurring. Measure your climate control options—central air/heat, dehumidifiers, etc. Ask your barn builders for other preventative tips.
Organizing Your New Tack Room
From must-haves to major no-nos, check out these helpful tips for keeping your tack room safe and organized.
Do…
Install security features. If you run a boarding facility in which you allow your clients to store their tack as well as their horses, install a security system to ensure valuables are well-protected and prevent yourself from being held liable.
Talk to other owners. Seek advice from other horse owners on how to best utilize the space in your new tack room. Whether they board their horses or have their own tack rooms, you're bound to get positive feedback and maybe even some new ideas.
Make frequently used equipment easily accessible. From bits to bridles, make sure the materials you use on a regular basis are within quick reach. Less frequently used equipment can be stored in the backs of closets, top shelves, and other out-of-the-way spots.
Create extra storage. Window or bench seats and ottomans can double as storage units if you find you need extra space. And who doesn't love a good window seat? Even the designated barn cat enjoys curling up in a secluded spot in the afternoon sun.
Keep emergency supplies handy. It's always better to have these things nearby and not need them than to need them and not have quick access. Keep your emergency supplies, like flashlights, halters, and leads, close to the door at all times.
Don't…
Store hay in your tack room. It may go without saying, but storing hay and feed in your new tack room can lead to all sorts of issues. The dust generated by these necessities can be harmful to your horses' immune systems the next time you go to pull that heater or box fan out of storage.
Install carpet. Fabric, particularly tightly blended carpeting, retains water and dirt, creating a nearly perfect environment for mold growth. Avoid carpet in your tack room at all costs, and be sure your blankets are properly stored.
Leave things on the floor. Regardless of the air quality or weather, it's crucial that you put things away when you're no longer using them. Leaving odds and ends out, especially cleaning supplies, can pose a serious health risk or physical danger to animals that roam freely about the barn and children.
Your new tack room can be the perfect escape or storage spot for all your equine care needs. If you're looking to start a new project, reach out to the experts at Quarry View Construction for the ultimate barn-building experience.