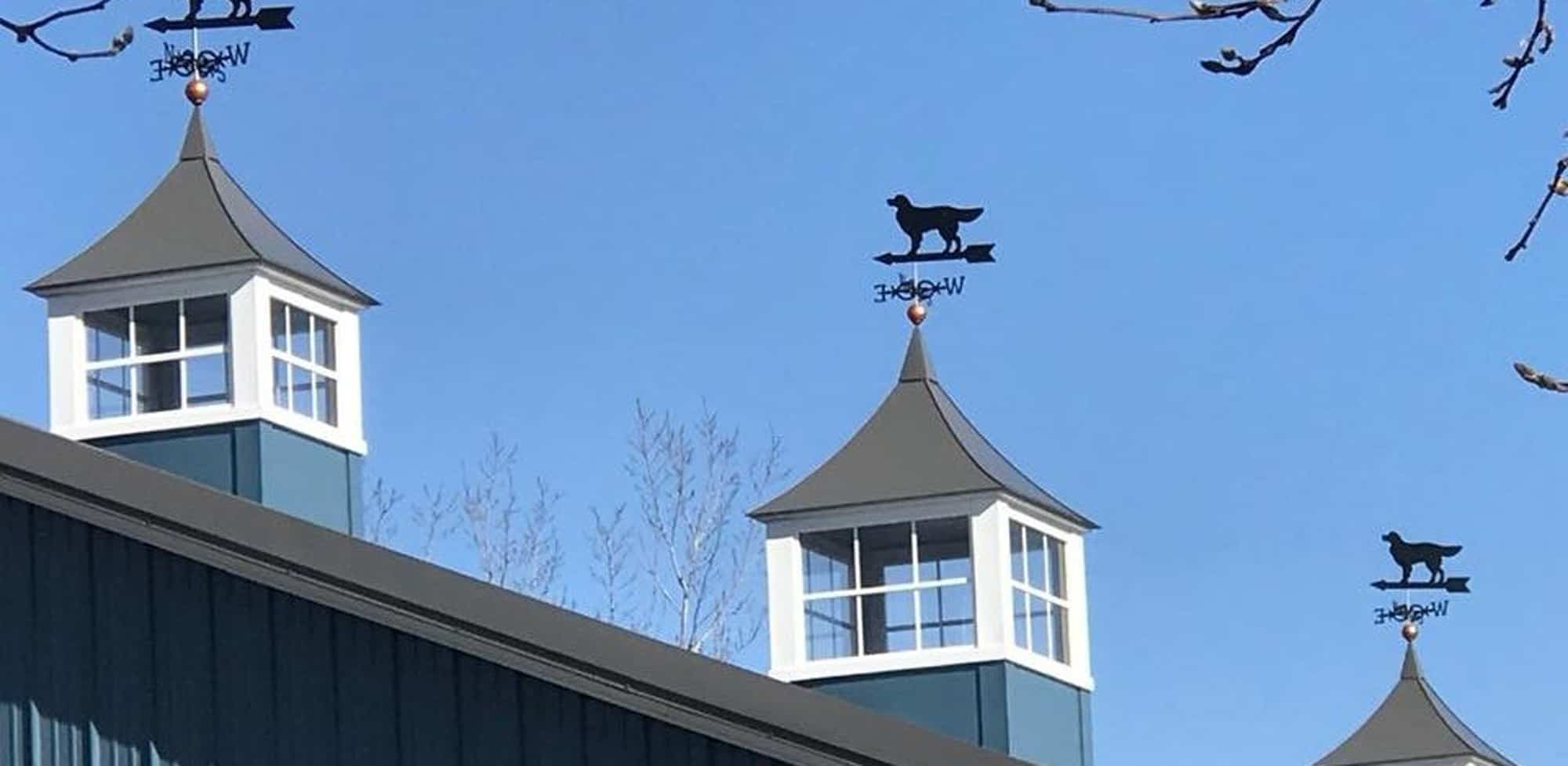 Quarry View's 10 Year Project Showcase: Part 1
This summer, Quarry View is celebrating 10 exciting years of serving customers up and down the East Coast. From arenas and barns to homes to commercial buildings (including a pet resort), we've worked on it all.
Here are three of the many projects we've completed over the years.
Equestrian Facility in Massachusetts
In September of 2016, we completed the gorgeous Elmwood Acres project in Mansfield, MA for Lexie Christian. The facility sits on a 19-acre property, and includes a spacious two-story barn with 16 stalls, a tack room, and a grooming area.  A balcony provides access to the clerestory windows which provide excellent ventilation.  A 20' covered breezeway connects the barn to the 15,000 sq. ft. riding arena.
Aside from the beautiful structure, the best part of this project was our relationship with Lexie.  Our crew stayed on the property in an authentic log home instead of renting a hotel.  Lexie managed several parts of the project herself including the land clearing, site excavation, and paddocks.  She even stained the siding herself!  The entire project was a collaborative effort between Quarry View and Lexie.
We loved working on this project, and Lexie and her husband, Jeffery, are thrilled with the results. We're also pleased to see how the success of Elmwood Acres has benefitted the community. Elmwood Acres provides boarding, riding, and training for people of all ages and skill levels in Mansfield and the surrounding areas. 
Timber Frame Home in New Jersey
Ray and Debi Schaffer of Stockton, NJ approached us to build their family a timber frame home. Ray came to us with completed plans already in hand, and we began construction soon after.  The 2,800 sq. ft. four-bedroom home includes a large walk-out basement, a patio overlooking the pond, and a garage with a loft for extra storage.
Ray is a carpenter by trade, so all the little details were very important to him.  Among other things, he knew exactly how he wanted the window trim to look.  Our skilled craftsman were thrilled to help him create a dream home for his family.
We also developed a great relationship with the Schaffers. Our original contract was to install the timber frame structure and the exterior walls.  Several months after completing the original contract, we returned to install the siding, the porch, and a custom staircase.  We stayed overnight on the property several times during this process.  Our relationship continued to deepen, and after we completed the various portions of his home, Ray offered to take us fishing.  We haven't yet selected a date for the fishing trip, but we look forward to a long-lasting friendship!
Indoor Riding Arena in Stockton, NJ
Our final project for Part 1 of our Showcase Series is an indoor riding arena we created for Daniel in Stockton, NJ. One of the most important requests from Daniel was that she wanted the arena to feel like you were outdoors.  To achieve this we installed large glass sliding doors in all four sides. The arena also has a welcoming timber frame entrance with a large chandelier. We built a great relationship with Daniel and were able to help make her dreams a reality.
Each of these projects stood out not only for their unique features, but for the relationships we built with our customers. We give our customers the best experience we possibly can, and in return, we build relationships with amazing people.
If you're looking for a great customer experience when creating your dream building, reach out to us for a quote on your next project. Maybe your project will be in our next showcase!