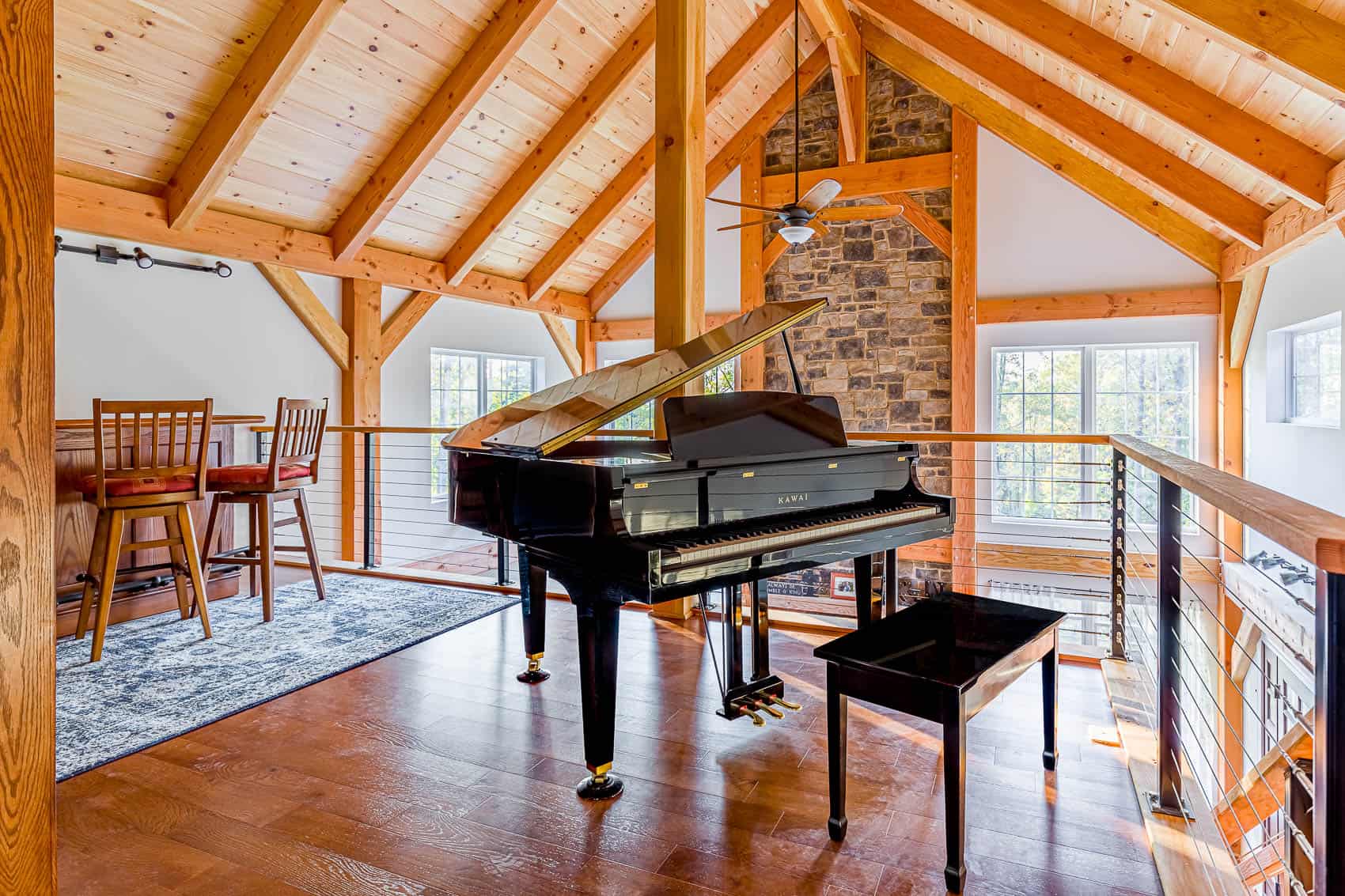 How Timber Frame Homes Are Environmentally Friendly
by Craig Hoffman | Thursday February 11, 2021 |
Timber Frame
Quarry View Building Group began building timber frame structures primarily because our customers wanted to combine beautiful timber and old world style but there are other benefits to using us as your timber frame builder. One of these benefits in the minds of many of our customers is energy efficiency. In a world where green standards can be a bit fuzzy, timber framed homes truly embody what it means to create a comfortable home that's mindful of the environment.
What's resonating with today's eco-smart home buyers is the fact that wood homes reduce greenhouse gas emissions. Timber frame homes use less carbon dioxide in their construction process and operation. It's not just a finished timber home that scores high on the energy-saving chart, the fabrication and construction process does as well.
Timber Harvesting
Wood grows naturally and is the only major building material that's renewable and sustainable over the long term. The very act of growing and harvesting timber has great environmental benefits. Trees absorb CO2 from the atmosphere but, as they mature, their absorption rate decreases. Sustainable timber harvesting methods ensure that mature trees are continually harvested and young trees are planted in their place.
Wood also outperforms steel and concrete when assessing the environmental aspects and potential impacts associated with those products. Studies show that wood is better for the environment than steel or concrete in terms of global warming, resource use and embodied energy, as well as air and water pollution levels.
Maintenance
Most wood in a timber framed home is located in the interior. Long-term maintenance requirements should be low and opting for reclaimed or recycled materials is another way to boost the home's green appeal.
Durability
Perhaps the biggest factor contributing to a timber frame's sustainability is its long-lasting qualities. History has shown that, with proper design and maintenance, wood structures can deliver centuries of reliable service. Plus, today's timber frame wood has additional precautions against insect and fungal damage. And although modern machinery helps to cut and form the beams and pegs needed to frame today's timber homes, most companies still use the same techniques that were used in the historical timber frames that are still standing today.
Providing Adequate Insulation
Buildings are responsible for over 50% of all CO2 emissions. Timber frame is often combined with SIP wall & roof systems which makes for a very good building envelope. Continuous insulation is essential to energy efficiency.
Reducing Waste
Timber creates less waste in its production compared with brick, plastic, concrete or steel. Unlike the aforementioned building techniques, timber frame construction allows for off-site manufacture. Building a house in this way has great environmental benefits as it reduces waste on site. In a factory environment, measurements can be more precise so waste levels of wood are much easier to manage and reduce.
Building Green with Quarry View Building Group
Building "green" is to create a structure that's environmentally responsible and resource-efficient throughout a building's life cycle, from design, construction, operation, maintenance, renovation — even demolition. This can all be done with the state-of-the-art building methods and experienced craftsmanship of Quarry View Building Group.
If you're interested in learning more and the natural beauty and sustainable advantages of building a timber frame home, contact us for more information.