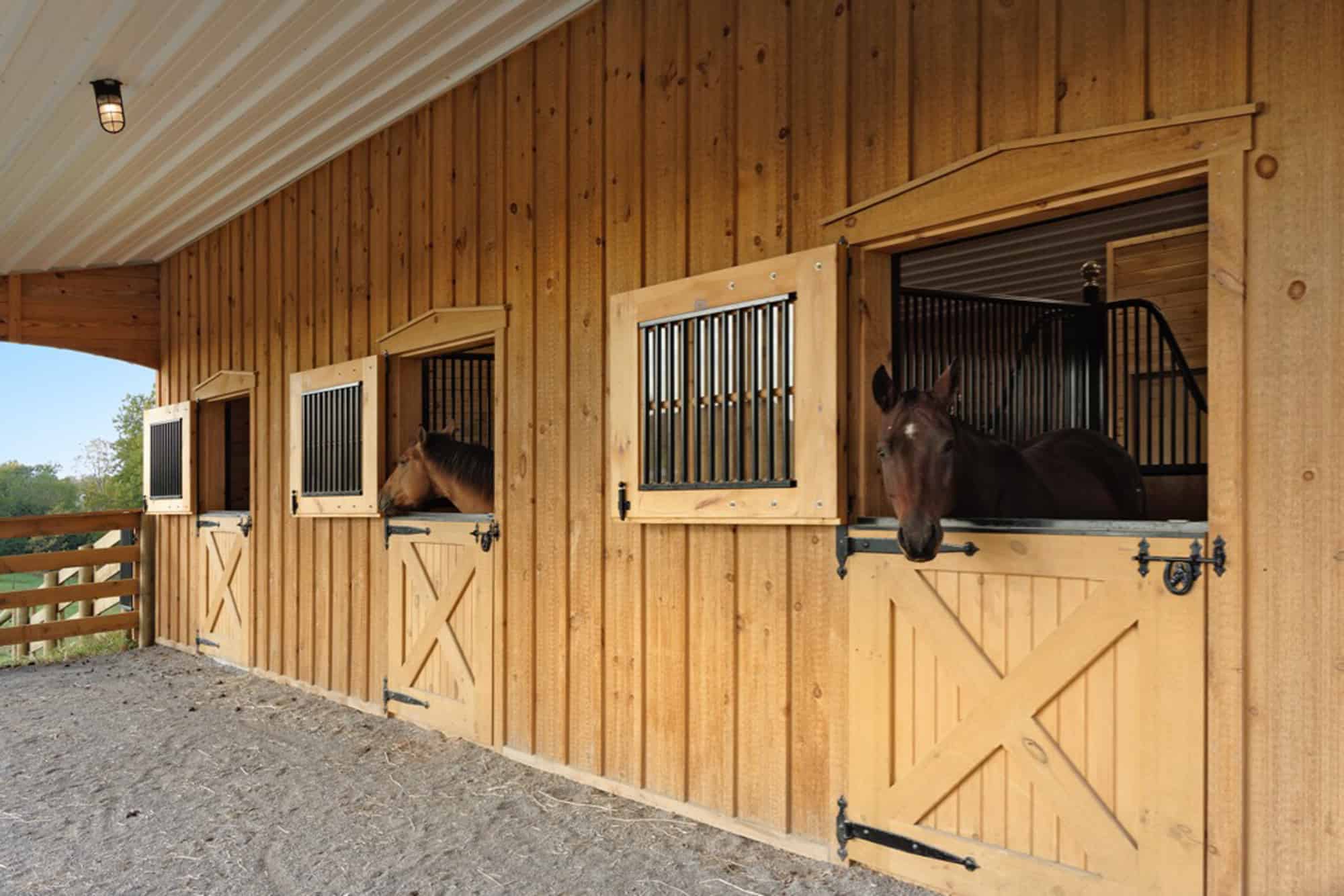 Top Horse Stall Door Features for Your Barn
by Ben King | Friday January 27, 2017 |
Equestrian
Your horse's stall door will open thousands of times. Make sure it has all the features that make life easy and comfortable for you and your horse.
Check out these top features for your stall door.
1. Sliding Doors
While many barn stalls incorporate hinged doors, a sliding door can be a smart option. Sliding doors take up less room while open, creating valuable aisle space for you, your horse, equipment, etc. A sliding stall door also allows you to better control the opening, so you can easily slip in and out of the stall to do chores.
2. Dutch Doors
When you want a barn large on charm, you can't go wrong with a Dutch door. This type allows you to open the top part of the door independently from the bottom. Simply open the top portion to offer your four-legged pal the ability to socialize or be a Nosy Nancy.
3. Stall Door Yokes
Like a Dutch door, a yoke stall grill allows a horse to stick his or her head into the aisle, creating an opportunity to socialize. Stall door yokes come in several options, including yoke cut-outs, fold-down yokes, and removable yokes. No matter which type you choose, yokes add a touch of estate elegance to virtually any barn.
4. Chew Protection
Horse choppers can inflict big-time damage on exposed wood edges. The damage is definitely a maintenance headache, but chewing can also harm your horse. Shards and splinters can work their way into the intestinal tract, causing colic or puncturing the intestinal wall. The wood may damage teeth and gums as well. Protect the stall door and your horse with chew protection and chew caps.
5. Feed Door
Make feeding your horses easier with a feed door set into the stall door. This timesaver is a smart option when you have several horses to feed, because this hatch prevents you from having to enter every stall at feeding time.
6. Blanket Bar
This stall door feature is a practical add-on that maximizes storage and keeps an important accessory at hand. These bars, which are mounted onto the door, keep your horse blanket in good condition by allowing it to air out in order to decrease its probability of harboring mildew. You'll find plenty of available options, including hinged and folding blanket bars, to fit your individual needs.
7. Decorative Door Hardware
Decorative hinges add a charming touch to any stall door. But fancy hinges don't need to be just for good looks. Pieces made from heavy duty materials, like cold-forged steel, are sturdy enough to withstand day-to-day use while maintaining their look.
At Quarry View Construction, we understand that the right barn will blend structure and style—and that's true for every component, from tack rooms to Dutch doors. Our team will design and build a barn that keeps your equine friends comfortable and makes your vision a reality.
Let's talk about that new barn you've been dreaming about.