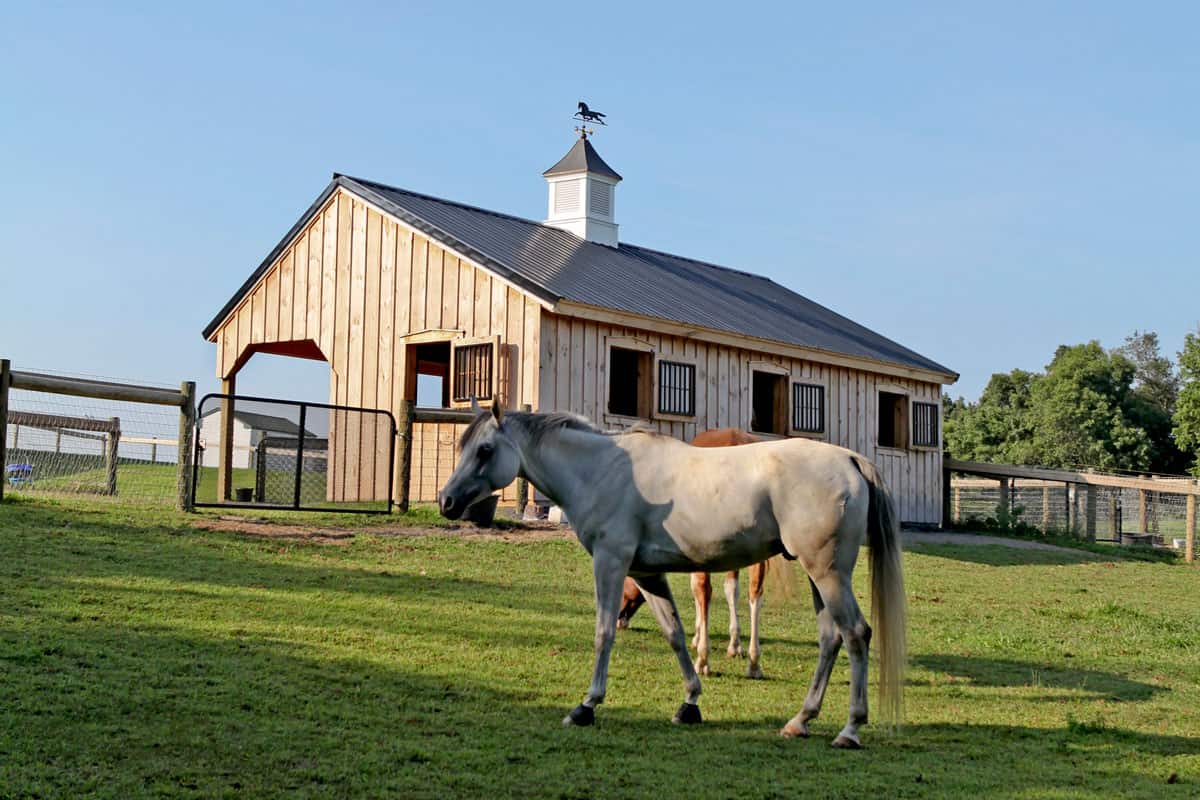 4 Ways Building a New Barn Will Save Money on Boarding
by Ben King | Tuesday February 14, 2017 |
Equestrian
An estimated 9.2 million horses live in the United States. That's a lot of stalls! But if you've been boarding your horse in someone else's stall, it might be time to consider the value of building your own barn.
Boarding can be a smart option for horse owners who don't have access to property. However, if you have a property large enough for a new barn, it might be time to save money on boarding and give your horse its own home to run to. Building your own barn will:
1. Save Money on Boarding Fees
The majority of rates for full board nationwide falls between $251 and $750, according to a survey from Stable Management. While a new barn costs more upfront, it eliminates the need to pay out fees every month to ensure proper care. Plus, if you board multiple horses, building your own stable offers big-time savings you and your bank account will love.
2. Save Gas Money and Travel Time
Self-care boarding gives you the ability to bond with your equine friend every day, but unless the boarding stable is next door to your home, chances are good you're traveling back and forth at least once a day—sometimes more. Building your own horse barn cuts back on those extra costs, like gas and travel time, not factored into boarding fees.
3. Save You From Labor You Might Not Want to Do
Some boarding barns ask you to pay for some or all of the boarding fee in sweat equity, whether that's cleaning stalls or taking visitors on trail rides. Investing in your own barn means you're no longer stuck taking on labor tasks you may not necessarily enjoy. Instead, you spend your time doing the things you want to do, like caring for your own horses.
4. Provide Opportunity for Additional Income
A new barn doesn't just save money when it comes to boarding—it can create an opportunity to make money as well. The Stable Management survey found that 61 percent of stable owners listed their equine business as a secondary source of income. Horse business opportunities include:
Riding
Riding lessons
Equestrian lessons
Boarding
Breeding
Like any other endeavor, always do your homework regarding how to start an equine business. Considerations include everything from bookkeeping and taxes to labor and zoning.
Bonus Reason: Give Your Horse the Family She Deserves
Full board facilities are typically staffed with caring people who love horses as much as you do. However, as its owner, you may still worry about whether your horse receiving the attention required for its individual needs.
If you own multiple horses, investing in a new barn is particularly beneficial. Providing your horses with their own home on your property still allows them to get the socialization they need among one another while also giving them more time to build even stronger relationships with you. It also provides you with the peace of mind that they're getting the care you know they need.
Bring your horse home to a barn constructed with a blend of heart, old world craftsmanship, and modern technology. Learn more about how the Quarry View Construction team can help you bring your equine friends home—contact us today.