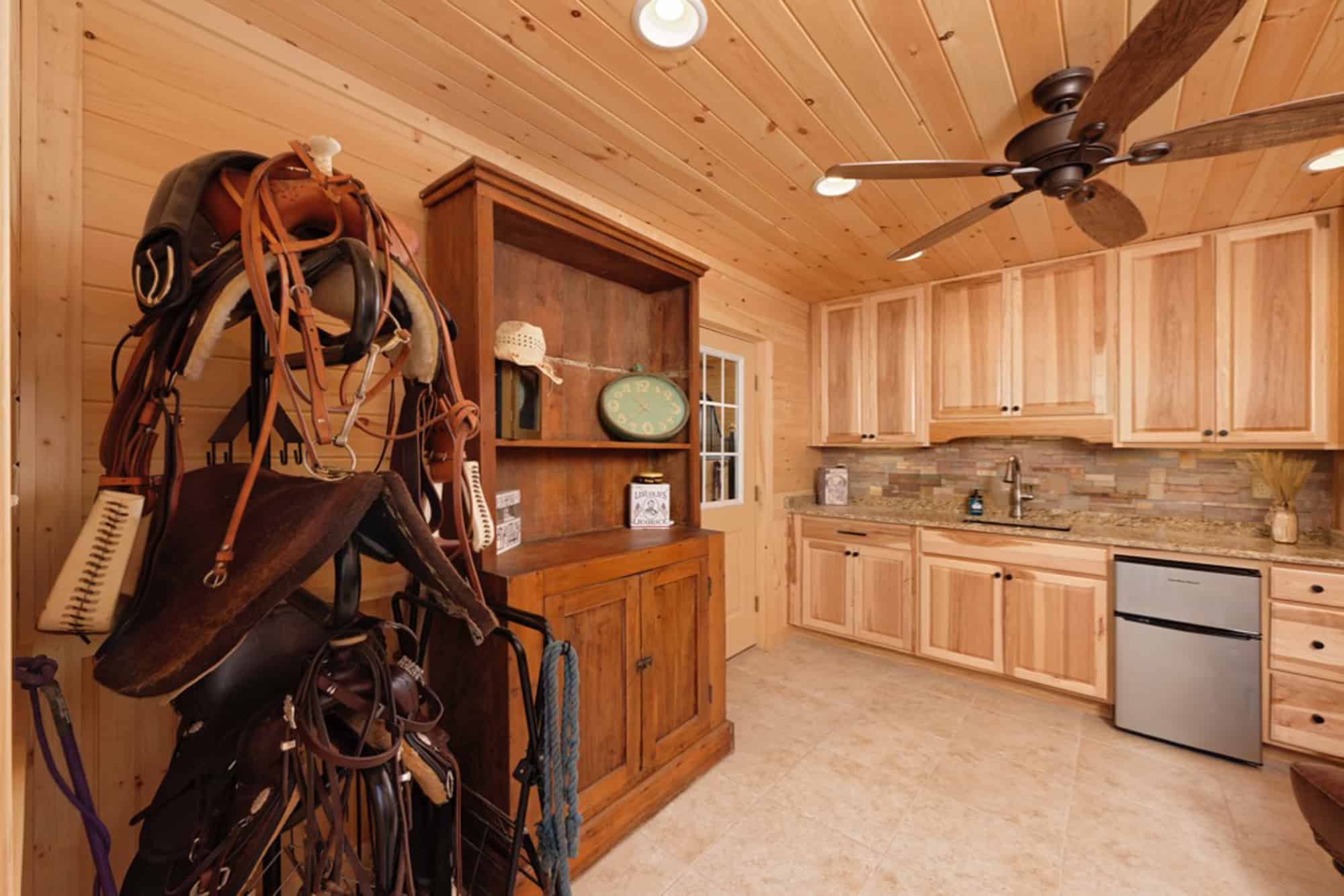 Build a Tack Room the Right Size the First Time
by Ben King | Thursday March 16, 2017 |
Equestrian
Taking the time to plan your tack room space now will save you from kicking yourself over regrets later.
When you build a tack room for your horse barn, you'll need to consider all your wants and needs to get it the right size the first time.
Appliances
From dehumidifiers and heaters to washers and dryers, think about incorporating the tack room appliances that will make caring for your horse and barn easier. You'll need to plan space for these items or other options like mini refrigerators or microwaves. Learn more in Installing Electric in Your New Barn: Things to Consider.
Seating
Benches and built-in seating create a place for you to take off boots, clean tack, or even sit and catch up with a horse-loving friend. As a bonus, benches can work double-duty if you add storage underneath the seats.
Storage Space
It will save you a ton of time and hassle to build a tack room that stores everything needed to get barn jobs done quickly and efficiently. Make a list of tack room supplies, including fly spray, grooming products, saddle pads, horse treats, basic first aid, etc. Then plan a storage strategy, which may include baskets, cabinets, or carts.
Wall Space
Never underestimate the value of vertical space in your tack room. Use walls to hang calendars, tack, blankets, storage baskets, and show ribbons. Take advantage of vertical space to hang tools, too, including scoops, rakes, and shovels.
You may also want to make space for a tack room message board to keep track of shopping lists and messages, as well as notes about individual horses, feedings, supplements, and medications. Use a hanging white board or chalkboard, or apply chalkboard paint to an interior wall.
Nice-to-Have Extras
Consider how much space you'll need for the little extras that will make your tack room feel like a home away from home. You may want to add items like:
Phone/tablet charging station
Small table or desk
Display shelf for trophies or photos
Wide window ledge or comfy mat for the resident barn cat
What Not to Include
Thinking about storing feed and hay in your tack room? We at Quarry View Construction understand how important your equine equipment and supplies are, so we highly advise against storing feed and hay in your tack room. The dust and dirt that inevitably accompany feed and hay can do serious damage. These harmful particles can get inside your heater while it's in storage, for example, which puts your horses at risk of contracting health issues the next time you use it.
Get your tack room right the first time.
Before you build a tack room, be sure to take the time to carefully consider how much space you'll need. The Quarry View Construction team will share the know-how to design a tack room that's functional and comfortable for you and your equine friends. Talk with us today.