Project Update: Adaptive Reuse of our Historic Farmstead
Chris, one of the three founding brothers and superintendent & project manager of our future office & shop project, has an exciting update to share: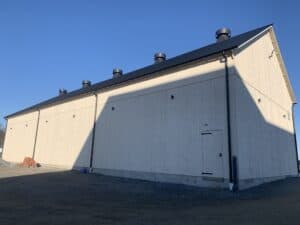 Tobacco Barn
The new "tobacco barn" construction is almost complete. After adding the hooks for the barn vents, the exterior will be finished. I'm really happy with how it turned out; the hand cut curved rafter tails, wood siding, and half round gutters really make it look like the original tobacco barn. Now, we have a 6,000 sq ft. warehouse that is aesthetically pleasing and blends in architecturally with the rest of the property.
Office Construction
We finally have the construction permits for the office and are going full steam ahead! Currently, we are working on the foundations. We just got done pouring the footers using the Form-A-Drain system for the forms. Now we are working on poured walls and within a few days we should have a floor in the basement of the old farmhouse.
A few things that need to happen before the floor is complete include: under-slab rough ins, slab insulation, and installing a vapor barrier. Although this is not a certified "passive home building design", we are always very mindful of insulation and considering how our projects can achieve maximum energy efficiency. We will be adding 3" of rigid foam insulation under the basement slab. We are also working on the cold cellar and well restoration, which requires a lot of tedious work and laying real field stones.
Timber Frame Raising
Once the floor and walls are poured, and the well is rebuilt, we will be hand cutting the timber frame for the first floor joists and support beam. In a few months, we'll have the timber frame raising for the main floor. Big changes are coming quickly so follow along to stay up to date!
To see an older update, check out this video