Quarry View Returns as the Exclusive Building Sponsor at Maryland 5 Star
by Jane DelBianco | Tuesday October 11, 2022 |
Equestrian
Quarry View Building Group is proud to once again have been chosen as the Exclusive Building Sponsor of the Maryland 5 Star, a CC15*-L Eventing Competition for the second year in a row, and we hope you will join us at this amazing contest!
One of only seven 5 Star Events in the world, this level of competition for both the Equestrian and Equine athlete is unsurpassed. Last year, 12 Olympic athletes competed and this year both the #1 and 2 riders in the world, Tim Price and Oliver Townend will compete among a talented field in this three day event.  Dressage, Cross Country and Show Jumping, Thursday- Sunday at the Fair Hill Special Event Zone, Elkton, MD.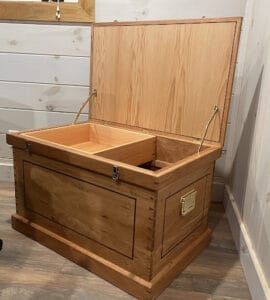 Ben King, CEO of Quarry View Building Group states, "Being selected as the Exclusive Building Sponsor is both an honor and a perfect fit for two organizations that value excellence, ingenuity and attention to detail. We wish the very best for all of the athletes, their teams, families and supporters. Congratulations as well to the Maryland 5 Star team for a terrific event. I hope you'll stop by our booth to say hello, learn more about us, and view the beautiful custom made trunk that one lucky person will win at the event."
Our custom timber frame Judge's booths, made especially for the Maryland 5 Star show the same fantastic workmanship!
Not sure you can make it? Like and follow our social media pages at Quarry View Building Group for updates and behind the scenes views (Facebook & Instagram)! Some of the excitement and our photos from last year: