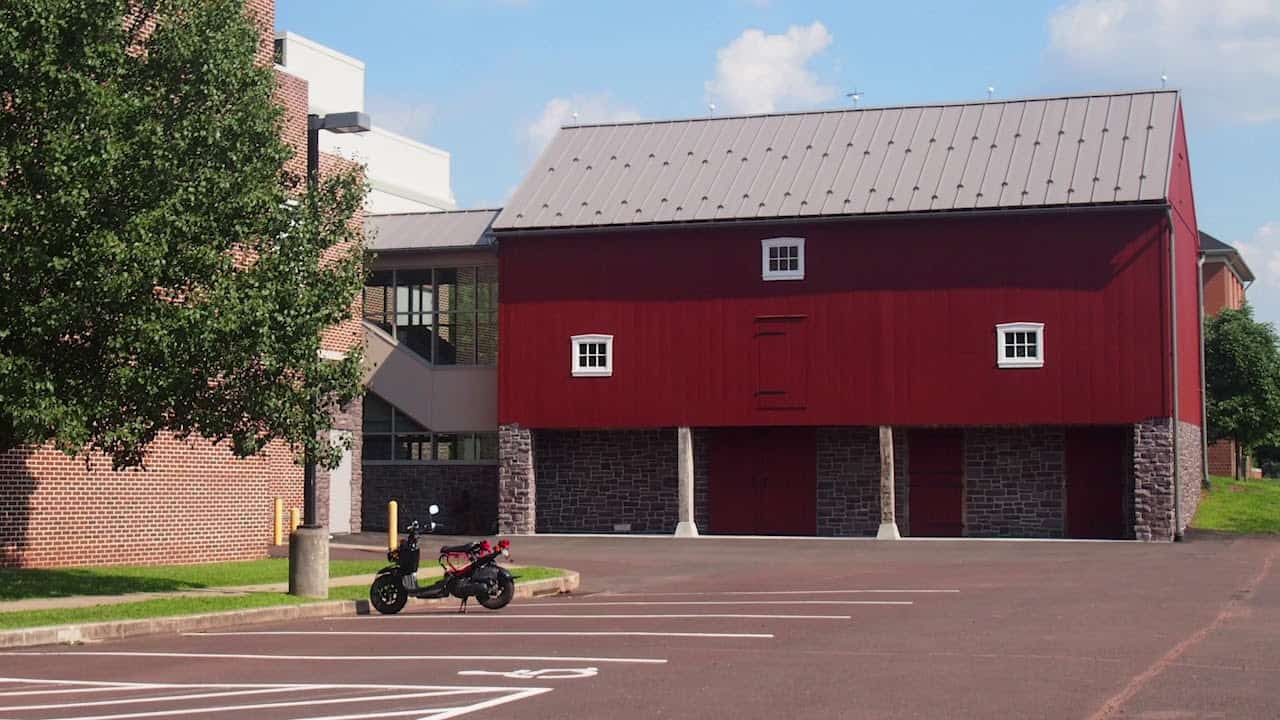 Schwenkfelder Library and Heritage Center Barn Rebuild
by Craig Hoffman | Thursday December 10, 2020 |
Commercial
Quarry View Building Group has completed one of its most impactful projects that will continue to educate and delight visitors for many years to come. The Schwenkfelder Library and Heritage Center campus expansion included the construction of a new 38,000-square-foot addition to the existing library and the relocation and reconstruction of a Pennsylvania Bank Barn.
Quarry View's expertise in barn construction was utilized to dismantle, transport, and rebuild the early-19th century barn in Montgomery County, PA., no easy task considering the craftsmanship needed to take down an almost 200 year barn, transport the timber, and rebuild piece by piece on a new site. Such work can only be done by experienced construction professionals with a meticulous attention to detail.
Schwenkfelder Library and Heritage Center
The Schwenkfelder Library and Heritage Center (SLHC) preserves and presents the history of the Schwenkfelder Church as well as a large portion of the surrounding Pennsylvania Dutch region. More than 9,000 visitors are welcomed each year at the SLHC to view its massive document and book collection dating back 200 years, along with genealogical research and over 100 educational programs yearly to children and adults. The expansion increased the size of its museum by 50 percent, adding exhibition, education, storage, research, and conservation space.
Seipt Barn
According to SLHC, the Seipt barn is an early nineteenth-century Pennsylvania Bank Barn of frame construction with a closed forebay. It blends original features with later additions and accommodations for early 20th-century farming operations including a silo, coolers, washing stations, and a modified ground floor for parking equipment where horse stables were once located.
The Project
Pennsylvania Bank Barns get their name from a simple but clever construction technique: the barn is built into the side of a hill, thus permitting two levels to be entered from the ground. Historically, the lower level houses animals and the upper levels serve as threshing floor and storage. The hillside entrance gives easy access to wheat or hay.
The Seipt barn is a perfect example of this building technique. Preserving the structural and architectural esthetic required Quarry View Building Group to painstakingly disassemble, photograph, map, and move each timber almost 20 miles from Towamencin, PA to the SLHC campus in Pennsburg. It was then reassembled, restored, and attached to the main building via a walkway.
Award Winning Project
The Montgomery County Planning Commission Awards program recognizes the best in planning, design, environmental sustainability, and advocacy in Montgomery County, PA. This prestigious annual program promotes awareness of outstanding design and innovative planning awarding successful land developments, revitalization efforts, open space enhancements, environmental sustainability, and transportation improvements.
According to the award summary, the SLHC contemporary campus expansion received the award for preservation of community heritage, context-sensitive design, and a successful long-term planning process. The project will allow this recognized research center to continue its vision of preserving and interpreting the rural heritage of Montgomery County and providing a destination for learning and reflection.
Project Award Video
Barns and Much More
Quarry View Building Group is proud to have worked on a project that preserves the history of our agrarian past and enriches future generations of our region's rich cultural heritage. We'd like to thank SLHC and its members for their generosity and guidance through such a unique opportunity to utilize our barn building expertise.
This project is a perfect example of how Quarry View Building Group listens to customer needs and considers client requests seriously. We want our customers to have a winning experience that creates their dream building.
Moving barns and winning awards is just a small part of what Quarry View Building Group does. If you have an agricultural or equine construction project, our state-of-the-art building design coupled with time-proven Amish barn building skills make us uniquely capable of building your facility with precision and professional guidance. Contact us today for a consultation.