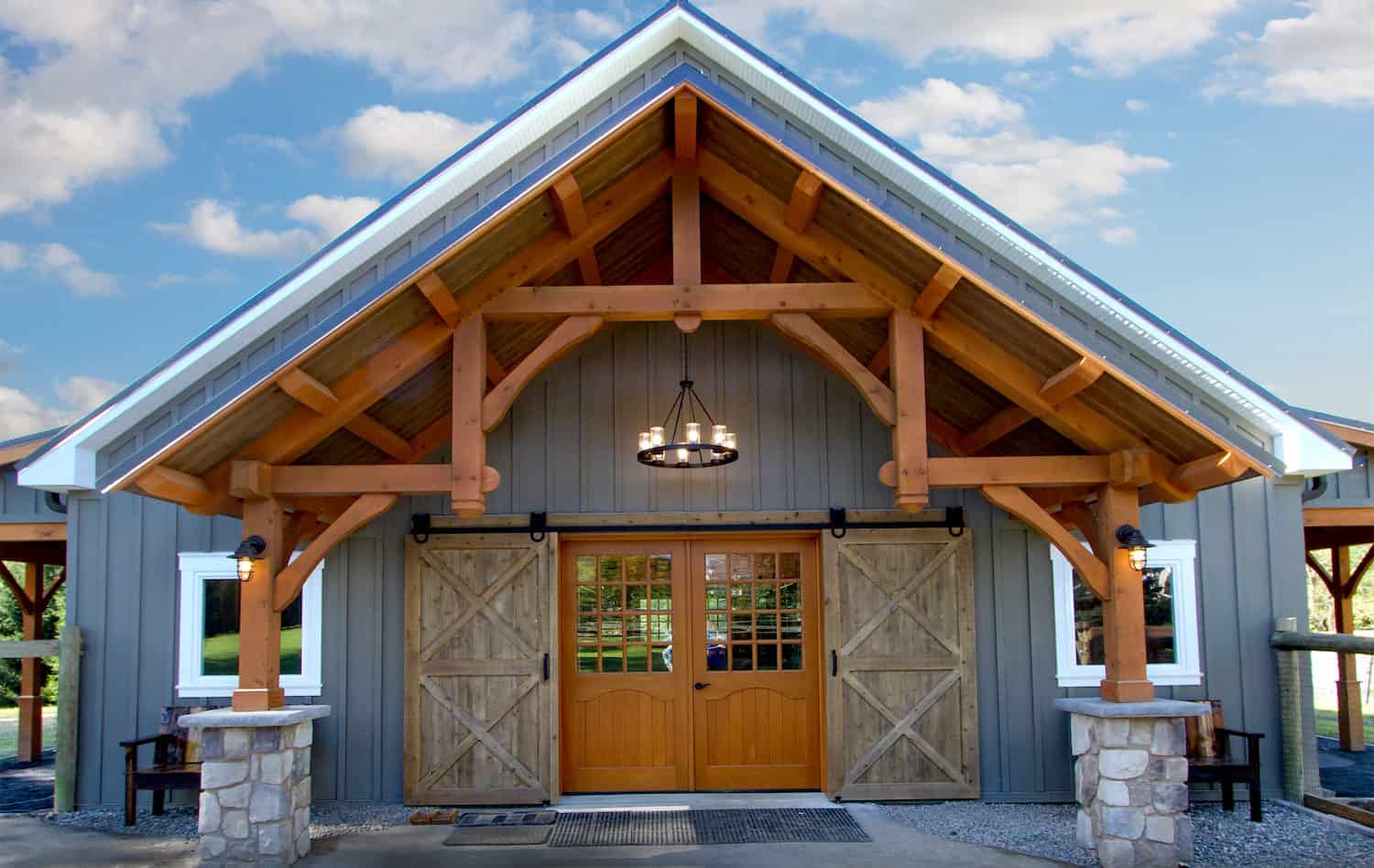 Timber Construction on the Rise
Building homes with wood is as ancient as the house itself. For centuries, homes were constructed with wood in addition to mud, stone, brick and many other earthen compounds. Timber framed homes became a mainstay in Colonial America with its ample supply of wood from millions of acres of untouched forest, many recalling the beautiful homes and cathedrals of Europe with soaring spaces created by timber frame construction. 
Over the last century, wood has given way to concrete and steel as the main structural base of most buildings both residential and commercial. After all, the durability and strength of these more modern materials are why they've become construction standards.
But wood is making a comeback. New technologies in the treatment of wood have focused on structural timber called "mass timber" that includes glue-laminated (glulam) beams, laminated veneer lumber (LVL), nail-laminated timber (NLT), and dowel-laminated timber (DLT). The most common types of mass timber that also opens up the most forward-thinking architectural and construction possibilities is cross-laminated timber (CLT).
At Quarry View Building Group we honor the warmth of timber frame while incorporating the exciting new building technologies of the 21st Century. Here's an introduction to CLT and why timber construction is on the rise. 
Timber Construction 101
Residential construction using timber, until recently, has been thin layers of pressed plywood or boards that are bundled together called glulam. The basic "stick" construction — framing with studs and joists made of boards is still commonplace in most residential neighborhoods. 
But with newer design and manufacturing capabilities and an increased desire for renewable and sustainable building practices that reduce carbon footprints, CLT construction is becoming a popular way to build residential and low-to-mid rise commercial structures. In addition to the "green" benefits, building with mass timber provides faster construction because panels are prefabricated and can be assembled off-site, thus decreasing timelines for projects and causing less impact on job sites. In addition, mass timbers provide a high thermal envelope, high strength-to-weight ratio, and high fire resistance.
CLT Building
CLT is also a framing style that uses large solid wood panels, typically panelized and engineered, for wall, floor, and roof construction. These panels provide exceptional strength, dimensional stability, and rigidity while providing a more natural look in design. CLT can be used on their own or in combination with traditional construction materials such as steel or concrete. 
CLT can be used for an entire building, as both the lateral and vertical support system, or for select elements such as the roof, floors, or walls. Indeed, this is where mass timber really shines. Using the win-win of sustainable building products and design versatility of mass timber, incorporating wood into the home's exposed interior brings its warmth and natural beauty inside.  
Timber Framed Homes
Timber framing provides exciting possibilities in architectural and structural design. The most popular use currently is installing exposed, curved or straight timbers that frame living spaces.  The use of large timber beams allows for wide expanses of open space in ceilings and plentiful use of windows. Yet these open indoor vistas are also energy efficient using the latest insulation and roof materials to create a warm and inviting interior.  
In addition to living space indoors, there are a plethora of other timber framing options for homebuilders. They can be used in brackets, trusses, entryways, roof systems, porches, balconies, carports, greenhouses, or any other ancillary structure to unify the timber frame esthetic in a myriad of places on your property. 
Timber Construction at Quarry View Building Group
Crafting a unique timber home design requires a wealth of experience and dedication to quality. Each timber frame project has unique visions and requirements and requires a diligent partnership with the client. 
Quarry View Building Group prides itself on matching the finished product with the vision of each of our clients. We can work with you to design a pre-planned timber frame home or create a custom home that fits your style, building site, and budget.
Our experience in building timber framed structures along with Amish-quality craftsmanship makes Quarry View Building Group one of the leaders in timber frame construction. Contact Quarry View Building Group today for a consultation on your timber frame project.