A Reason To Celebrate
Last week, we celebrated Quarry View's 15 years of business! 
Quarry View Building Group was founded in 2008, with little resources beyond the strong work ethic of its founders. In the early years, projects included pole barns and sheds, but have now evolved into complex construction projects that highlight our strengths; attention to detail and our commitment to quality.
The owners of Quarry View Building Group would like to thank our clients and trade partners for fifteen years of quality construction and relationships. As a general contractor, Quarry View is able to service a wide range of clients while constructing legacy buildings utilizing old world craftsmanship and modern sustainable building methods and materials. This includes timber framing and mass timber construction, all while building lifelong relationships with clients and trade partners. 
Our gratitude is also extended to our employees; we've made it fifteen years because of the team we've been blessed to be surrounded by. The vision and ambition of our team is an integral part of the next chapter, and we are grateful for the employees who have many choices of where to work, but choose to put their faith in our business. 
In the beginning, we realized one of the purposes behind our company was to give back to the communities where we live and work. Through both volunteer efforts and construction projects, we're achieving this. Our team has spent countless hours being involved in direct volunteering opportunities, including The National Center for Healthy Veterans, Adopt-A-Highway, and Leg Up Farm. Being of service to our community isn't just through volunteer hours, but also our construction projects. The renovation, restoration and adaptive reuse of buildings is not only sustainable, but also breathes new life into the communities they serve. Our own campus is a great example of this; we've painstakingly renovated an iconic landmark; restoring it from dilapidation into a beautiful campus.
The Pennsylvania House of Representatives honored Quarry View's 15th anniversary with a special certificate presented by Jane DelBianco.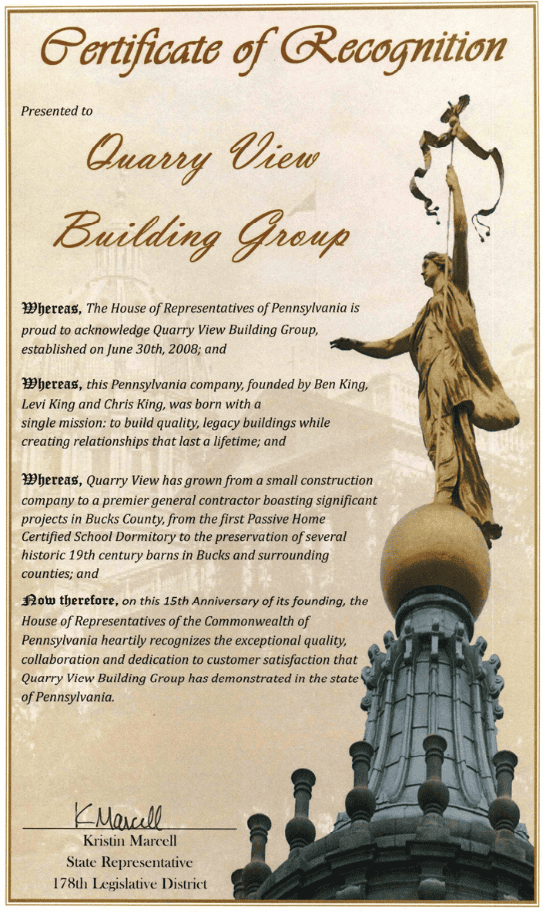 The future is bright for Quarry View, with our team of exceptional staff, outstanding clients, and valued trade partners! We look forward to the next fifteen years of creating relationships, legacy projects, and building upon our portfolio of adaptive reuse, restoration, commercial, Passive House, and equestrian projects.