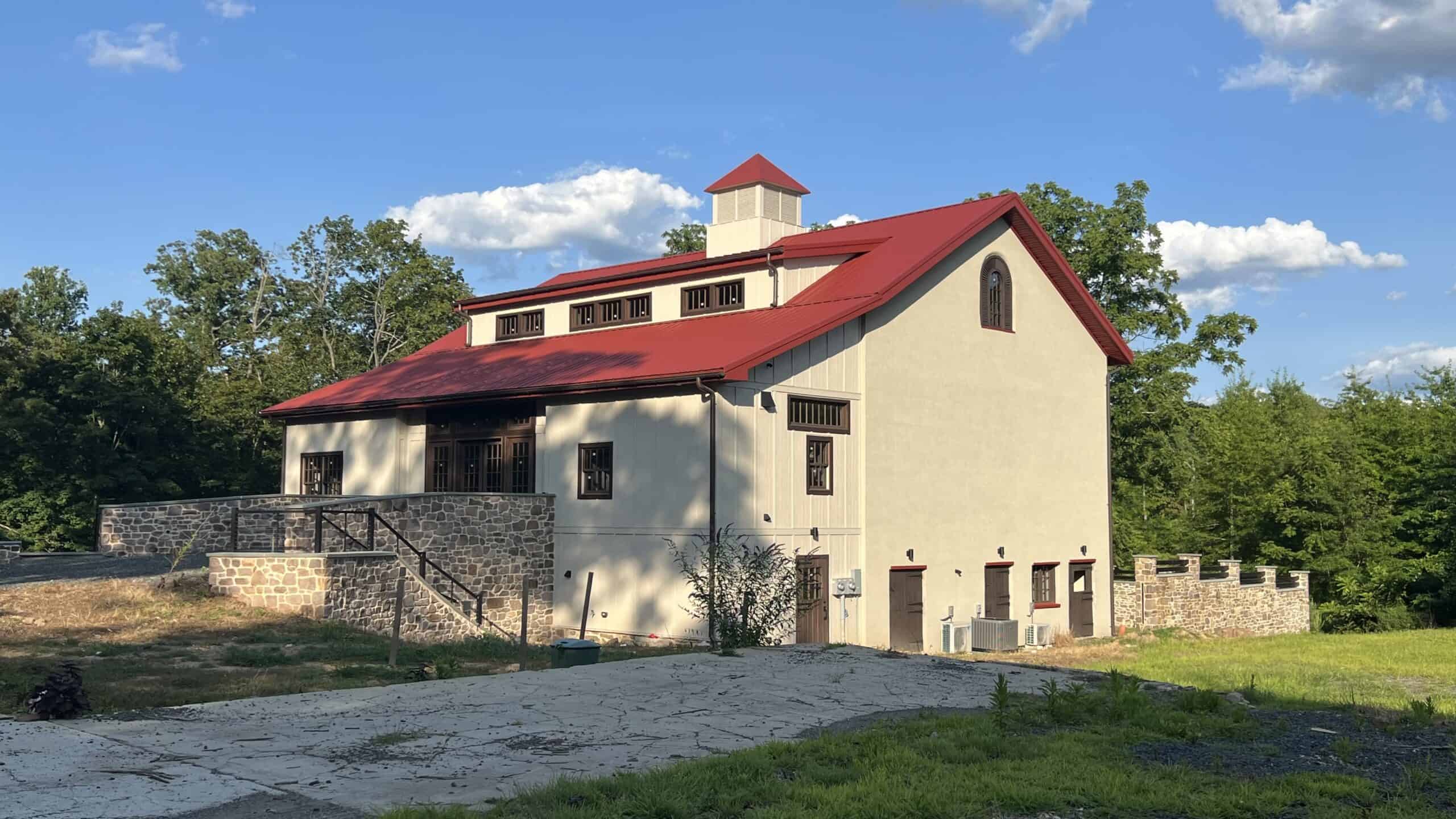 Barn Renovation in Montgomery County
Per Whitpain Township historical records, this property was previously known as the McCracken Residence and farmstead. Earliest accounts indicate that the original construction of the barn was 1785 along with its three sister buildings. The three sister buildings were a carriage house (used previously for horse stalls and later renovated and expanded), the original barn house, and the chicken shed (which was renovated previously into an apartment and art studio). These adjacent buildings were consciously and painstakingly deconstructed to reclaim as much original material as possible for reuse in the barn renovation, including among many other things: original fieldstone, heavy timber members and original wood finish boards. Some of the reclaimed timber revealed previous mortise and tenon work which suggests that when employed in 1785, these members were already in their second or third life of reuse. While this project is not a true historical renovation, the Secretary of the Interior's Standards for the Treatment of Historic Properties, including standards for Preservation, Rehabilitation, Restoration and Reconstruction were definitive sources for guidance as structural and aesthetic decisions were made and implemented.
The basement level will be used for a two car garage, storage, and an apartment for the landscaper. Most finishes at this level are utilitarian but original timber and stone remains exposed wherever possible. Heavy structural renovation was required by the engineer of record at the basement, for which original floor joists from the sister buildings were ganged and exposed as new columns. The main floor hosts a large foyer, master suite and kitchen/laundry/powder room area upon entry to the building prior to entering the floor area of the main barn space. This main area will be used for living and dining space, and boasts the original hayloft ladders and hay trolley overhead as well as a reclaimed fieldstone hearth onto which a new wood-burning cast iron stove will be set, with adjacent space for firewood storage. There is an elevated loft added to a portion of the main space of the barn which relies heavily upon reclaimed timber structure, all of which is exposed. Atop the loft are two bedrooms, a bathroom, storage, and a main loft space. The loft bedrooms, in particular, offer more personally-sized spaces of the building where the reclaimed material can be enjoyed on a more intimate level, and include new windows which overlook the renovated courtyard area. At the exterior of the building, the entry side now has flared entry walls which provide a "zero entry" path to the main front doors and which will be eventually flanked by lowered fish and plant pond areas for walking and sitting. The rear of the building will have the entire courtyard renovated, with added gardening areas, all clad in original fieldstone veneer or reconstructed out of true fieldstone masonry. Exterior lighting will be inset into all of this new stone work. The rooftop cupola is fully rebuilt using historical dimensions and photographs, and will bear down upon new dark red metal roofing.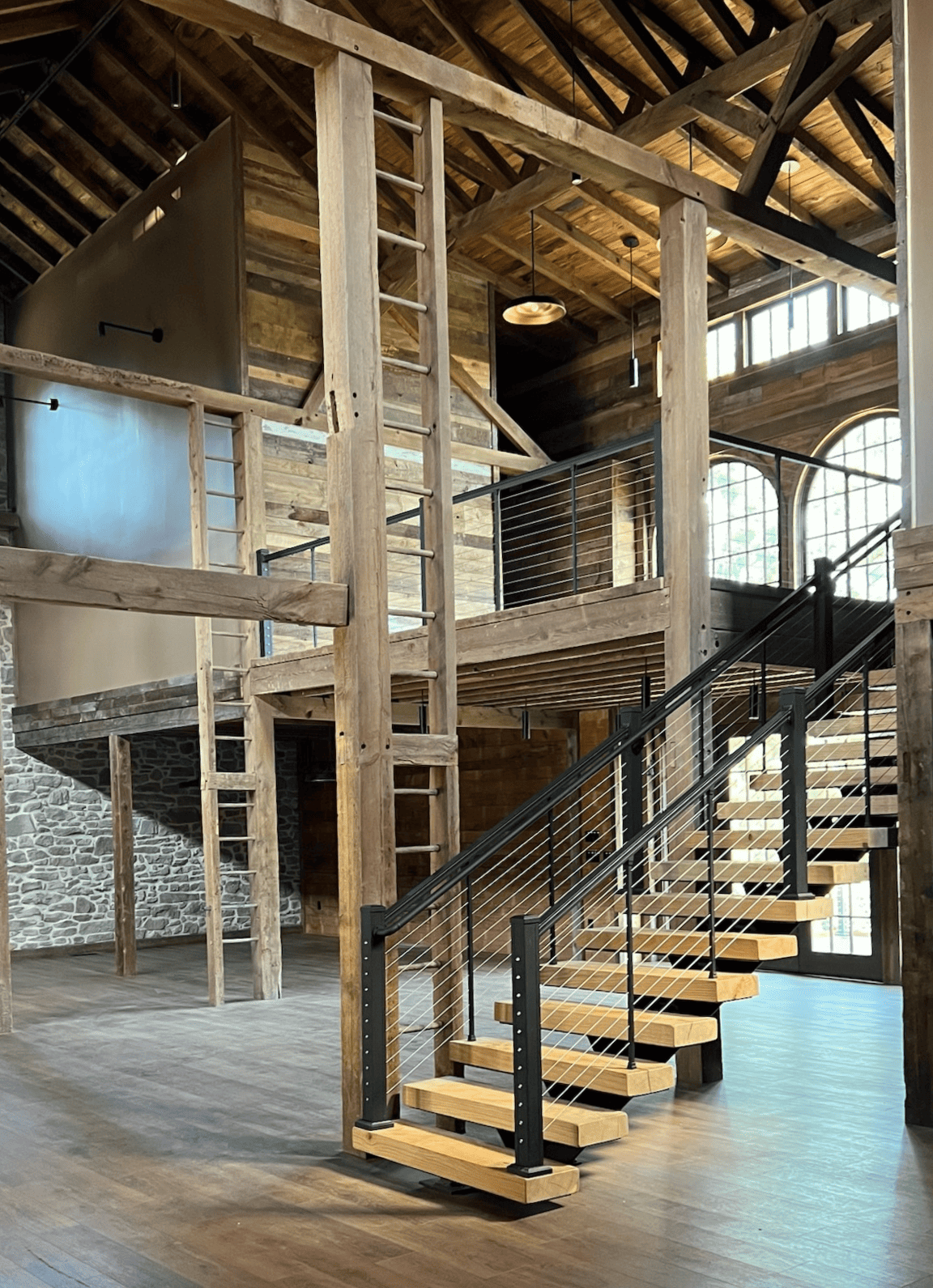 The barn building itself is unique for its tall expanses (approximately 45 feet tall) of original fieldstone masonry. These walls are true and plumb and their beauty is unparalleled. This fieldstone was originally provided from local clearing of land for some of the original farming developments in the area. All exposed fieldstone is being cleaned, sand blasted, and repointed to its original beauty. One of the highlights of these fieldstone walls are the two gable-end, arch-headed windows at the roof peak, which have a very unique louver wrap detail at the jambs and arched heads of the windows. Local preservationists believe this window detail is a design element indigenous and specific to Montgomery county. New areas of concrete construction (for entry and courtyard walls) are being faced with veneer cut from surplus fieldstone on site. 
The building permit review process highlighted township requirements to improve the energy performance of the building. The client was given the choice of adding insulation on the original stone walls at either the interior or the exterior faces of the building. In order to maximize the beauty of these walls the client decided to add insulation and synthetic stucco to the exterior faces at the gable ends, which leaves the interior stone faces to be highlighted and enjoyed from within the building. The fieldstone masonry wall facing the restored and expanded courtyard remains exposed stone at the exterior, where it can be enjoyed from the deck and courtyard itself. The interior of the courtyard-facing wall receives framing and drywall, which provides a large expanse where insulation as well as mechanical/electrical/plumbing lines are gracefully concealed. This is especially important to keep lines, conduit, outlets, and mechanical grills off of any area of exposed repointed stone. The fieldstone masonry walls facing the entry of the building are within the extents of a new framed addition, and as such were allowed to be kept completely exposed at the interior spaces which include the master suite, kitchen area, and main barn area itself. 
Where insulation and synthetic stucco are added to exterior stone faces, reclaimed timber material was added to existing head and sill details of all doors and windows to ensure that these conditions remain proud of the adjacent thickened exterior faces of the building. At jamb conditions within the fields of synthetic stucco, a bullnose detail is added to the jamb returns so that these vertical lines are eased and cast less shadow onto the surrounding wall faces. The play of light and shadow is critical through choices for finishes and applications throughout this renovation. 

Additional features and details of this renovation include:
– All stairs from the interior loft and the exterior deck are floating timber treads with matte black metal structural stringers and base plate supports, and all fall protection is matte black metal flat stock with aircraft cable to maximize views through the space. The fall protection also ties in with the lighting fixtures visually so that lighting fixtures and fall protection follow the same contemporary theme of looking modern while providing minimal visual interference to all of the original materials highlighted throughout the space.

– All windows and doors are custom made from mahogany and will remain exposed to compliment the original wood detailing. All original interior doors are reclaimed from on site and are being cleaned and painted. Most interior doors are being set within a unique detail which uses reclaimed timber elements to create door frames. The intent here is to maximize display of highlighted timber (and timber cut from trim), finish faces of which will be proud of all adjacent drywall. 

– To match the clients' eclectic style and unique approach to reclaiming material, lighting fixtures and plumbing fixtures are celebrated as more modern additions on this project. Lighting fixtures are mostly cylindrical (to differentiate them from the heavy rectilinear theme of existing and reclaimed structure) and matte black. Accent lighting is cast over fields of reclaimed material like stone and timber. Plumbing fixtures and controls are of different metal finishes per different areas of the building, and feature sink basins are hand hewn stone vessels to match the clients' appreciation of historical and modern art and artifacts.

– Original flooring is in use wherever possible. At the main floor space engineered floor is provided to match client need to mitigate movement and gapping of floor boards through the wide seasonal range of the site. This is harnessed as a design element through varied board widths, careful scribing to adjacent border materials, and selection of a darker color with appropriate sheen to give the main floor a modern look which does not compete or conflict with the palette of materials in place elsewhere in the building. Tile at kitchens and bathrooms will be a honed slate for a more contemporary finish which does not demand too much visual attention.

– Covers and plates for outlets, switches, diffusers and returns are matte black or bronze to match the lighting fixture package, as well as to avoid the look of any white, beige or pale typical covers. Outlets and diffusers are recessed into flooring, wherever possible.

– Original artifacts including the original hay trolley, barn and stall doors, and metal tie-offs for livestock are preserved throughout all spaces.
Through the construction process the client has been inspired by the freshly restored stone masonry, reclaimed timber elements, and the increasingly beautiful revived spirit of the building. As such, the client has made revisions in the construction process in effort to improve the use of the spaces, as well as to visually emphasize original and reclaimed materials. This includes revising several areas which were originally intended to be constructed from standard modern stick framing with drywall finish in order to focus instead on timber framing and exposed, reclaimed wood woods for finish.
When completed this project will celebrate both the original beauty of materials from on site as well as the clients' very eclectic tastes which focus on contemporary, while remembering the past. This project features unconventional assemblies and combinations of very standard materials and connections for a unique and timeless celebration of the overall space and rejuvenated original building shell.
To see more of our adaptive reuse & restoration projects, check out our project gallery!