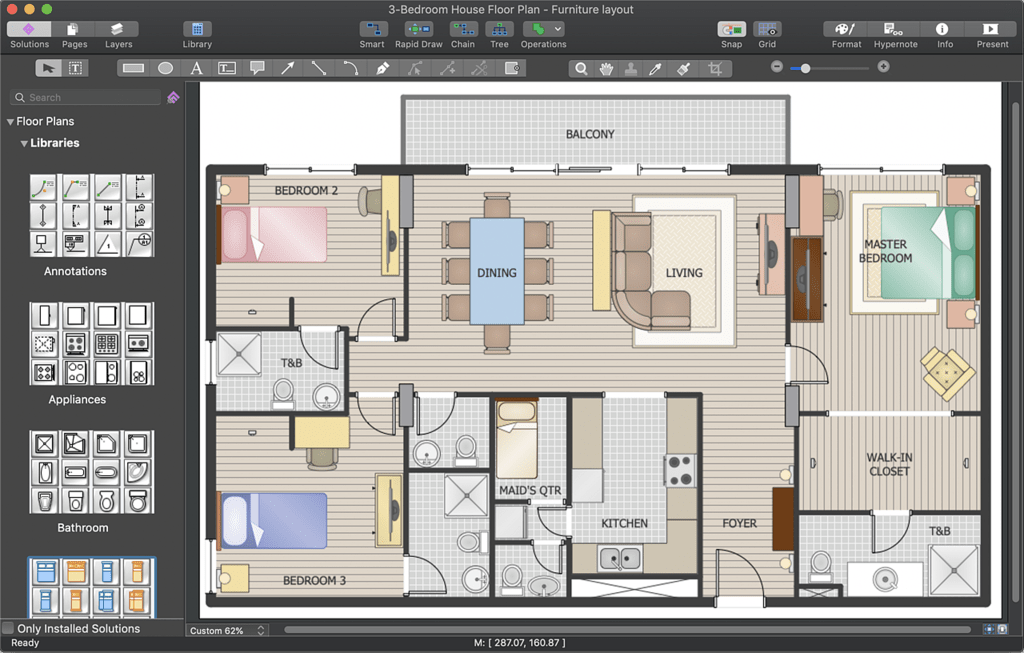 Creating the Perfect Floor Plan
Every home starts with a floor plan. They act as a guide through your home to show a view from above of the relationships between rooms, spaces, traffic patterns, and other physical features at one level of a structure. For well-designed and thought-out plans for residential buildings (called home plans or sometimes called a house plan) determine the overall building specifications including layouts, built-in installations and resources.
Fortunately, with the advance of the internet, there are dozens of floor plan creator programs available for prospective homeowners to envision their new home's layout. Although these are often just rough sketches to show an architect or builder, they provide key decision-making steps to preview your potential wants and needs for your dream house.
But these programs often take up valuable time to learn. Wouldn't you rather spend that time gathering a few pictures of your preferences and meeting with someone who can quickly get your dreams transformed into 2D renderings? At Quarry View Building Group, our design team does just that. For a nominal fee, separating the design from the actual build process gives you the chance to fully develop your dreams with trusted professionals who can make valuable suggestions and help you to avoid costly pitfalls
FLOOR PLANS – WHY ARE THEY IMPORTANT?
Floor plans are a drawing that is designed to scale which details the relationship between rooms, spaces, furniture and other physical features from an aerial view. They're the footprint of your house that everything is built upon. A solid floor plan helps the homeowner plan the interior of their house including total square footage, room size, furniture placement and flow.
But floor plans are also vital for builders too and make for a more productive and efficient construction process. Working with builders like Quarry View Building Group can take your floor plan sketch use it to create a final blueprints and construction plans for your new home construction. Creating a partnership where your ideas come to fruition is part of our process!
CREATE YOUR VISION
The first step to creating your custom floor plan is to brainstorm. Start writing down ideas that you have. Create a list of ideas and features you're interested in pursuing. You can look for innovation online, and even cut images from magazines to help get your vision onto paper. When you start working with experts like Quarry View Building Group, the more you have for them to view, the easier it is for them to help you in selecting a floor plan that is closest to your wishes.
DON'T OVERLOOK FUTURE NEEDS
You don't want to build a home to find that your home is too small and needs renovations. So, consider your future needs. For example, if you're newlyweds and thinking about having children, make sure to have enough space to accommodate them. If you have elderly parents, will you need to take care of them in your home in the future? Are you interested in having a home office to start your dream business? Then, you'll need to factor those items into the floor plans as well. Remember, spaces in your home that may look practical or functional could easily break your budget. Review your list of features. Put them in order of importance.
FLOW AND FUNCTION
Part of designing a layout for your new home means deciding where you'd like each room to be situated. As you're making these decisions, don't forget to factor flow and function. You want the house to flow and function according to your family's lifestyle.
At Quarry View Building Group, our experienced designers are able to point out items that you haven't thought of, to make your design even more on target. For example, placing bedrooms near the kitchen or bathroom might not be ideal because those are communal areas where things tend to get loud. If you need easy outdoor access from your home office, placing it near the back of the house would be ideal. For large families, an open-concept kitchen and dining room can make mealtimes easy and special.
LIGHTING MATTERS
Another factor to consider when designing your floor plan is the lighting. Natural light adds aesthetic appeal, makes spaces look bigger, and improves your mood. So keep this in mind when deciding where each room should go and where windows should be placed. If the lot you've chosen has a nice view of the sunrise or sunset, take advantage of this. Opting for larger bay windows, skylights, or glass sliding doors is another option to gain access to a lot of sunlight.
DESIGN YOUR FLOOR PLAN WITH QUARRY VIEW BUILDING GROUP
As you can see there's a lot involved in designing a floor plan for a home build. While having inspiration from television, the internet, and magazines is a great place to start, what looks good on a screen or in print may not be what's best. Consider factors like your budget, personal lifestyle, current, and future needs, health, and comfort. In doing so you and the floor plan drafters will work together to create a home you'll love for a lifetime.
When it comes time to take your floor plan ideas and make them reality, using an experienced and trusted builder like Quarry View Building Group means seeing your vision come to reality with spectacular results. Our state-of-the-art design and planning team can use your floor plan (or create one from scratch) and incorporate your needs, wants and desires into the home of your dreams. With an A+ rating from the Better Business Bureau and stellar reputation throughout the area, we're ready to work with you on your new house project. Contact us for a consultation on your floor plan today.