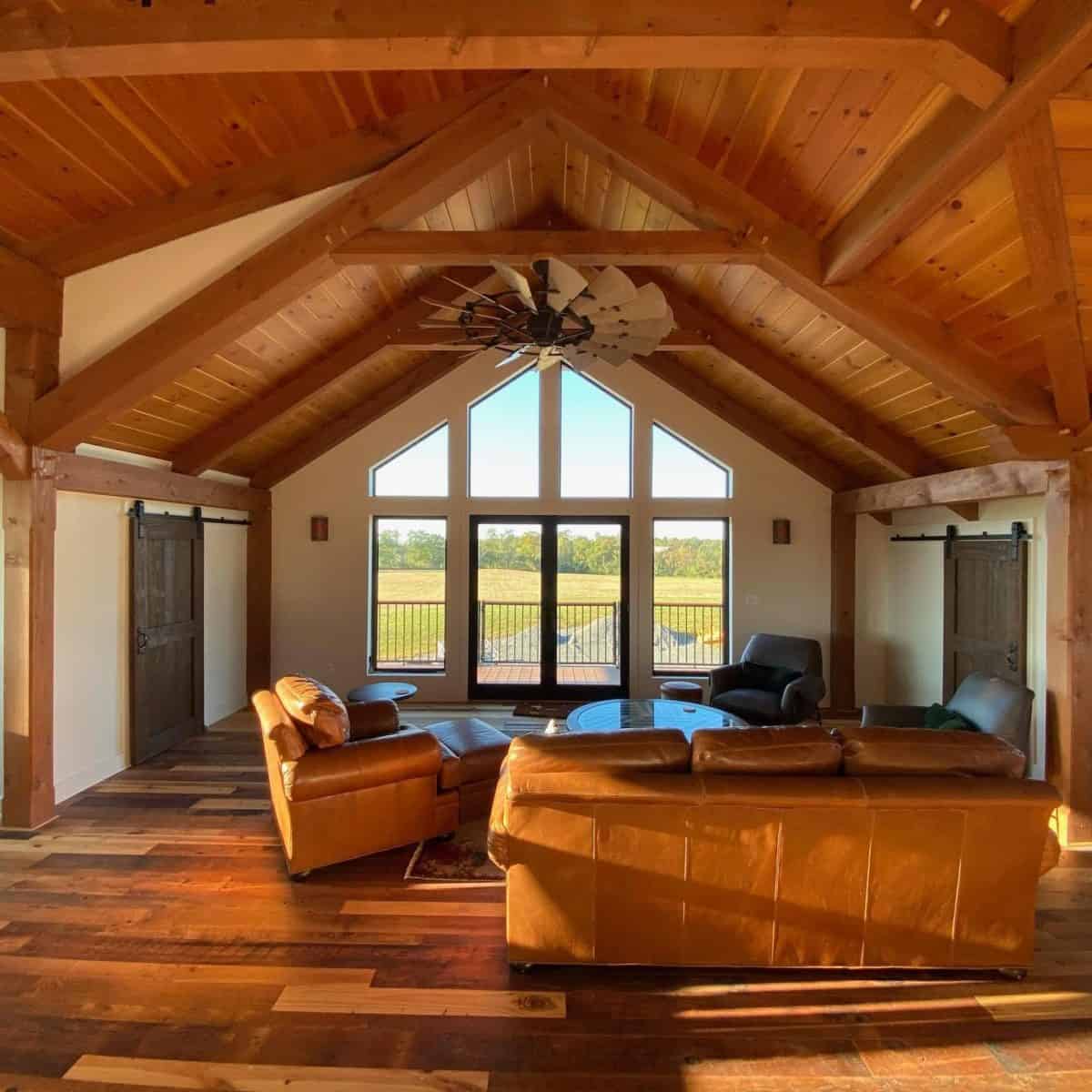 Timber Frame Home Planning
by Craig Hoffman | Thursday December 10, 2020 |
Timber Frame
The dictionary defines timber as: "a large squared or dressed piece of wood ready for use or forming part of a structure." Along with the ubiquitous calling of a falling tree, these are the two most popular references to wood suitable for building or carpentry.
Although wood may have lost some ground as a building material to concrete, stone, brick, and fiberglass, timber as a structural and design element in residential construction is making a comeback by construction firms like Quarry View Building Group. New technologies in the treatment of wood have focused on structural timber called "mass timber" that includes glue-laminated beams, laminated veneer, nail-laminated, and dowel-laminated timber.
But what do we mean by a "timber frame home?" There are many styles and uses for timber in home construction. If you've considered adding timber framing to your construction project, then read on for more!
Timber Frame Home Basics
Timber frame homes incorporate wood with large structural wooden beams visible throughout the interior which act as the structural skeleton of the home. The timbers are cut to fit together and connect with specialized joinery such as mortise-and-tenon connections held tightly together by wooden pegs. The timber frame serves the dual role of providing structure for the home as well as artistic beauty.
Upright timbers are called posts. A timber frame home is fully constructed of the upright/vertical posts and horizontal beams. Crossbeams connect the posts together and give the structure stability. The location where two beams come together is called a joint.
Joints are connected with mortise and tenons and secured with wooden pegs.
There are many kinds of joints, ranging from simple to complex. Common ones include lap joints, mortise and tenon joints, and dovetailed and pegged joints. Trusses are rigid triangles of timbers. A truss provides support for the roof but also allows for column-free floor space, typically on the top floor of a structure.
Timber Frame Home Construction
Timber frame homes are almost always a custom home. They take more time to design than a conventional home. Each timber frame must be carefully selected to do its job—both structurally and esthetically.
There are other factors to consider when designing and building a timber frame home. Using an experienced timber frame home builder like Quarry View Building Group is a great place to start! Other considerations include:
Timber Truss Design
Unlike traditional residential construction, choices will need to be made about timber truss design. Some will prefer a simple layout with straight lines while others may like a curved cord truss design, or a mixture of both.
Wood Type
While Hemlock or Douglas Fir is often used as the standard wood species in timber frame construction by Quarry View Building Group, using exotic wood species is possible, but will increase costs. Availability and price of the wood for your home may vary depending on market availability and location.
These timbers are processed before installation. This impacts their strength, look, and longevity. "Surfaced" or "smooth" are the standard options for the finish of timbers. You may also like a rough-sawn or a hand-hewn finish, but again, this will affect cost.
How Much Timber?
Because your timber frame home will most likely be custom, you can choose how much timber is used in construction. Some timber frame homes feature the entire structure built with timbers. Others use a hybrid of building systems including log, timber frame, conventional and/or panelized construction to achieve the look, feel and performance they want. Perhaps using timbers in specific areas like living rooms, entrance ways, and trusses provide just the right amount of support along with the beauty of wood accents.
Your Timber Frame Home Journey
The choice of a builder can bring your timber frame home to life according to budget, needs and requirements. Quarry View Building Group has the extensive experience in building timber frame homes necessary to bring your project to life, according to budget needs and requirements. We'll work with you to incorporate timber frame construction or accents into a home that will bring out all the beauty of wood construction into your dream home. Contact us today.